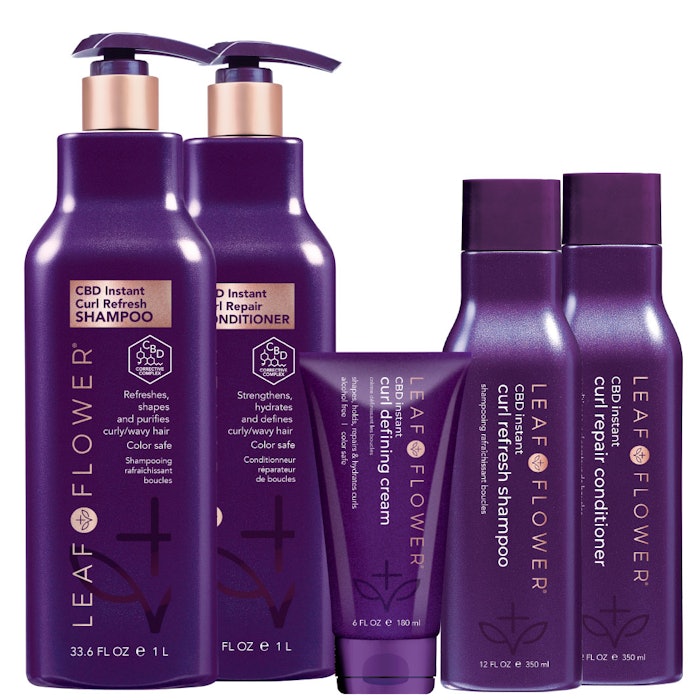 Leaf + Flower's new Instant Curl Line uses a highly active cannabinoid blend of CBD, CBC (cannabichromene) and CBG (cannabigerol) to revive dry, damaged curly hair.
It combines CBD with other key cannabinoids extracted under high pressure and extremely low temperatures to isolate, preserve and maintain the purity and efficacy of the cannabinoid oil.
This extraction process reportedly yields a formula that restores homeostasis to the scalp, resulting in stronger hair follicles and, thus, fuller, healthier, more predictable hair, according to the company.
The CBD Instant Curl Refresh Shampoo, CBD Instant Curl Repair Conditioner and CBD Instant Curl Defining Cream address the breakage, porosity and frizziness that tend to afflict curly hair.
Due to the natural curved structure that forms curly hair, it becomes physically difficult for natural moisture at the scalp to travel from the roots to the ends. As a result, an excessive amount of oil remains at the scalp, leaving curls susceptible to dryness and breakage due to lack of moisture.
The Instant Curl line repairs and rejuvenates dry and damaged curly hair by combining bioactive complexes with vital cannabinoids.
The CBD Instant Curl Refresh Shampoo, CBD Instant Curl Repair Conditioner and CBD Instant Curl Defining Cream are formulated with Leaf + Flower's proprietary CBD Corrective Complex.
The CBD Instant Curl Refresh Shampoo and CBD Instant Curl Repair Conditioner work in concert to distribute essential moisture from the scalp to the tips of each strand, halting the progressive degeneration of the hair and restoring balance essential for healthy curl formation.
Leaf + Flower's exclusive cleansing system gently invigorates follicle glands by trapping and removing excess sebum and mineral and product buildup, while leaving natural lipids intact.
CBD molecules absorb into damaged areas, smoothing out inter-fiber friction to stabilize hydration. They create curls that are refreshed, weightless and bouncy.
Then an infusion of bioactive phytosterols travels down the curvature of each strand and makes its way deep inside the fiber of the strand. They repair the structural integrity responsible for naturally resilient, frizz-free curls and replenish hydrolipidic film for improved shape and long-lasting hydration.
The CBD Instant Curl Defining Cream is engineered to enhance and fortify curls by locking in shape with a long-lasting flexible hold while allowing for natural movement without stickiness, buildup or crunch.
The brand's exclusive bio-adhesive polysaccharide improves hydration within the coiled fibers by replenishing and retaining lubricity in the curl bonds that have been gradually lost over time.
Working in conjunction with active adaptogens, these technologies then embed into the cuticle and adhere to gaps, reinforcing and counteracting fragile conditions in the curvature structure.
This resets and preserves the curved shape to provide additional support for enhanced spirals that are smooth, defined and resilient.
Joe Lamana, global director of Leaf + Flower, said, "Curls require both strengthening and hydration, and this line helps repair and replenish from the inside out, leaving curly clients with healthier, defined texture."
Leaf + Flower Instant Curl products are sold at high-end salons across the United States and on LeafandFlower.com.
CBD Instant Curl Refresh Shampoo
$40 per 12 fl oz
Ingredients: Water (Aqua), Sodium Cocoyl Isethionate, Decyl Glucoside, Cocamidopropyl Betaine, Sodium Lauroyl Sarcosinate, Acrylamide Copolymer, Acrylamidopropyltrimonium Chloride, Cannabidiol (CBD), Panthenol, PEG-6 Caprylic/Capric Glycerides, Glycerin, PEG-150 Pentaerythrityl Tetrastearate, Helianthus Annuus (Sunflower) Seed Oil, Pyrus Malus (Apple) Fruit Extract, Hydrolyzed Adansonia Digitata Seed Extract, Rosmarinus Officinalis (Rosemary) Leaf Extract, Rhodiola Rosea Root Extract, Linum Usitatissimum (Linseed) Seed Extract, Salvia Hispanica Seed Extract, Amaranthus Caudatus Seed Extract, Krameria Triandra Root Extract, Sarothamnus Scoparius Extract, Juglans Regia (Walnut) Leaf Extract, Caesalpinia Spinosa Gum, Silicone Quaternium-18, Silicone Quaternium-8, Trideceth-6, Trideceth-10, Trideceth-12, Guar Hydroxypropyltrimonium Chloride, Hydroxyethylcellulose, Diisostearyl Malate, Caprylic/Capric Triglycerides, Disodium EDTA, Lactic Acid, Sodium Benzoate, Potassium Sorbate, Phenoxyethanol, Chlorphenesin, Caprylyl Glycol, Benzyl Benzoate, Limonene, Hexyl Cinnamal, Fragrance (Parfum)
CBD Instant Curl Repair Conditioner
$40 per 12 fl oz
Ingredients: Water (Aqua), Cetearyl Alcohol, Behenamidopropyl Dimethylamine, Ethylhexyl Olivate, Dimethicone PEG-8 Meadowfoamate, PPG-3 Caprylyl Ether, Simmondsia Chinensis (Jojoba) Seed Oil, Fragrance (Parfum), Disunfloweroylethyl Dimonium Chloride, Acrylamidopropyltrimonium Chloride/Acrylamide Copolymer, Sunflower Seed Oil Glycerides, Glycerin, Polyester-11, Theobroma Grandiflorum Seed Butter, Squalane, Cannabidiol (CBD), Helianthus Anuus (Sunflower) Oil, Rhodiola Rosea Root Extract, Krameria Triandra Root Extract, Sarothamnus Scoparius Extract, Juglans Regia (Walnut) Leaf Extract, Linum Usitatissimum (Linseed) Seed Extract, Salvia Hispanica Seed Extract, Pyrus Malus (Apple) Fruit Extract, Amaranthus Caudatus Seed Extract, Rosmarinus Officinalis (Rosemary) Leaf Extract), Hydrolyzed Adansonia Digitata Seed Extract, Diisostearyl Malate, Silicone Quaternium-8, Trideceth-10, Guar Hydroxypropyltrimonium Chloride, Lauryl Lactyl Lactate, Caesalpinia Spinosa Gum, Hydroxyethylcellulose, Caprylic/Capric Triglycerides, Disodium EDTA, Lactic Acid, Sodium Benzoate, Potassium Sorbate, Phenoxyethanol, Chlorphenesin, Caprylyl Glycol, Benzyl Benzoate, Citronellol, Limonene, Hexyl Cinnamal, Linalool
CBD Instant Curl Defining Cream
$34 per 6 fl oz
Ingredients: Water (Aqua), Polysorbate 20, Trimethylsiloxyamodimethicone, Cannabidiol (CBD), Hypnea Musciformis Extract, Cynara Scolymus (Artichoke) Leaf Extract, Oryza Sativa (Rice) Seed Protein, Phytic Acid, Oryza Sativa (Rice) Extract, Helianthus Annuus (Sunflower) Seed Extract, Panthenyl Hydroxypropyl Steardimonium Chloride, C11-15 Pareth-7, C12-16 Pareth-9, Trideceth-12, Glycerin, Caprylic/Capric Triglyceride, Propanediol, Butylene Glycol, Disodium EDTA, Sodium Benzoate, Gluconolactone, Calcium Gluconate, Potassium Gluconate, Ethylhexylglcyerin, Lactic Acid, Phenoxyethanol, Chlorphenesin, Caprylyl Glycol, Citral, Coumarin, Limonene, Linalool, Fragrance (Parfum)