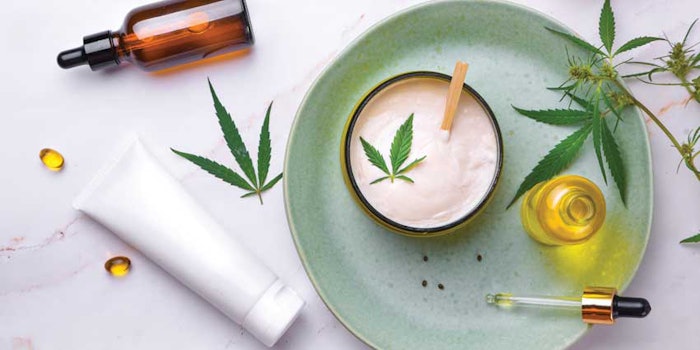 CBD was the ingredient story of 2019, unleashing a wave of investments and acquisitions (Cronos and Lord Jones, Molly Sims and Sagely Naturals, and many others), retail expansions (CVS, Ulta, Sephora, Rite Aid, American Eagle and countless others), created unique direct-to-consumer supplier deals (ex: IFF-Neptune Wellness Solutions) and expanded into every conceivable category, from ingestibles to skin care to hair care to makeup and even feminine care/sexual wellness.
Meanwhile, the U.S. Department of Agriculture is preparing rules for hemp production in the country, paving the way to more certainty in the industrya. The U.S. Food and Drug Administration is also engaged in firming up guidance for consumers and brands. The organization has noted, "The agency is committed to protecting the public health while also taking steps to improve the efficiency of regulatory pathways for the lawful marketing of appropriate cannabis and cannabis-derived productsb."
Here, Denise Herich provides a consumer perspective on how shoppers and prospective shoppers view CBD and how far sentiment has evolved.
–Editor
Consumers have embraced CBD and the many benefits they see it delivering to the skin. To find out just how engaged consumers are with all things CBD beauty, we asked more than 7,000 women and men to tell us what they really think of this category, from the products they use (or don't) to what products they'd like to try to how CBD benefits their skin to which brands and retailers they trust to sell CBD and more.
CBD Usage and Consumer Confusion
Usage of CBD beauty is increasing. In fact, a quarter of all consumers surveyed in a 7,000-plus person study conducted by The Benchmarking Company in August 2019 reported using cannabis-based skin care and beauty products.
However, even though usage is growing, beauty brands looking to enter the CBD game have a huge opportunity to educate and clear up the persistent misunderstandings about CBD-based beauty. For example, just half of all consumers surveyed believe there is a difference between a marijuana and a hemp plant, while 46% said they didn't know the differences among the many types of CBD being used (full-spectrum, CBD isolate, etc.) in beauty products, even though they may be currently using products with those same ingredients.
Consumers report buying CBD beauty products that they believe are made with:
hemp seed oil: 58%
hemp-based CBD: 52%
marijuana-based CBD: 33%
CBD isolate: 22%
According to the survey, 16% know only that they are using a CBD product.
Why Consumers Trust CBD
The main reason consumers use cannabis-based beauty is that, overall, CBD is viewed as a safe, healthy, powerful ingredient that can be trusted to deliver real benefits. Sixty-one percent of respondents believe the medical value of CBD is well-documented; 58% believe CBD is a potent ingredient which will address cosmetic concerns; 57% say hemp/cannabis is a good-for-you ingredient; 50% say that it's safe for sensitive skin; and 46% say CBD is chock-full of vitamins and minerals. Finally, 43% like CBD beauty because of positive product reviews from other consumers.
Consumers Are Willing to Try CBD Beauty
Among consumers who currently do not use cannabis or CBD-based products, 68% are willing to try it, and 45% of non-users are more willing to try CBD than they were just one year ago. Why? Almost half say there is adequate proof CBD-based products are safe; they are becoming more mainstream and there is evidence that beauty products made with CBD will help solve beauty and personal care needs.
Why Some Consumers Are Hesitant
A misunderstanding of the benefits of CBD beauty or concerns over the legality of using cannabis-based products are the top deterrents to use, as seen in the data gleaned from respondents who do not use CBD beauty:
48% don't understand the benefits
34% don't think it's skin-safe
32% say CBD beauty is just hype
27% believe it's illegal on a federal level
15% are afraid of getting high
 For the full article, check out Global Cosmetic Industry's February digital magazine.