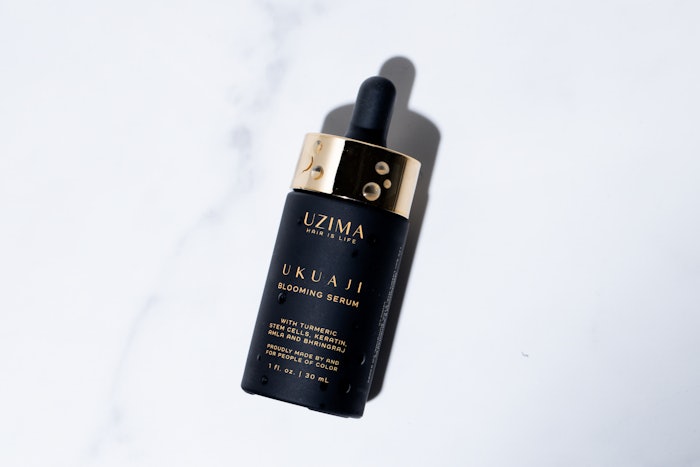 Uzima
Uzima
, a Black-female-founded prestige hair care brand focused on scalp and strand care for textured hair, has expanded into
Moda Operandi
. The online retailer expanded into beauty in January 2023.
Founded in February 2023, the brand is debuting two treatment products online at modaoperandi.com:
The Ukuaji Scalp Serum ($70.00) is designed to support scalp health and encourage strong hair growth. Key ingredients include plant stem cells and growth factors to protect the scalp and prevent inflammation, as well as antioxidant botanicals and herbs, and soothing peppermint extract,
The Unyevu Leave In Conditioner ($58.00) is designed to combat frizz while delivering a weightless, lasting moisture and shine. The silky conditioner reportedly reduces breakage, while strengthening and protecting the hair. It also features energy-delivering maca and red ginseng for the hair roots to shield the hair and scalp from stress.
"Moda Operandi is a space for the most exciting and thoughtful beauty brands, which is why we're excited to partner with [founder and CEO] Leona Dondi," says Jessica Matlin, director of beauty at Moda Operandi. "Her brand Uzima speaks to clients that have been long overlooked by much of the luxury hair care world."
"While conducting market research for Uzima, I noticed a prevalent sentiment among Black women with textured hair: they felt excluded from the realms of luxury and clean beauty," said Dondi. "The fact that we feel left out of this booming category called for a solution. This is why our partnership with Moda Operandi, a premier luxury lifestyle brand, excites me. They curate an exclusive selection of clean beauty products, and our collaboration helps elevate our brand for our audience, welcoming them into an inclusive space where they can discover and enjoy luxury experiences that make them feel and look good."