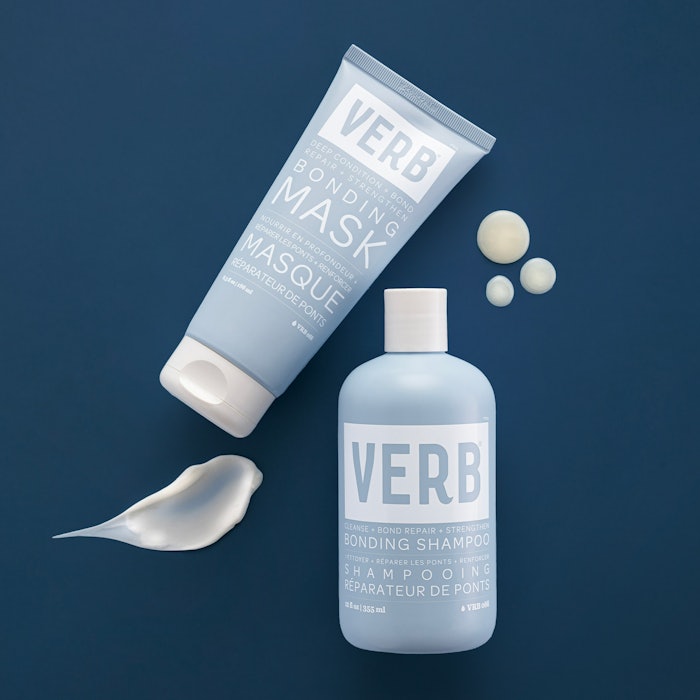 Verb Products has launched its affordable Bonding Collection, comprising a strengthening Bonding Shampoo and strengthening, detangling and softening Bonding Mask (each retailing for $20) that help relink broken disulfide bonds, temporarily seal split ends and strengthen strands.
The move follows the launch of the bond-building Function of Beauty Pro range at Sephora North America, which features SKUs from $24-28, as well as hair concentrate boosters that retail for $4 each.
And, in October 2022, Sally Beauty broke into the category with SKUs priced between $9.99 and $14.99.
Taken together, the launches display a desire to make the bond-building category more cost-efficient. 
Verb's range comprises amino bond complex, which leverages plant sugars and other natural ingredients, as well as nutrient- and mineral-dense red and brown algae, mafura butter, and vitamin E-rich manketti oil.
The products reportedly address the visible damage caused by coloring, chemical treatments, and day-to-day wear from hard water and styling.
The products strengthen hair up to 61%, per a third-party testing lab according to Verb, and temporarily repair split ends by 82% after a single use.
"In recent years, our brand has witnessed customers owning their hair care routine with heat styling and hair coloring at home," said Brooke Coté, general manager at Verb Products. "We understand that customers are taking a more skin care-based approach to hair care and want their hair to feel and be healthy–not just appear healthy."
"Verb's new bonding collection has a unique formulation that demonstrates impressive results on split ends and breakage," said dermatologist Heather Woolery-Lloyd, MD. "An independent study showed that 82% of split ends are closed after one treatment with the Bonding Shampoo and Mask. Based on these significant findings, Verb's new Bonding Collection is a great option for people who want an evidence-based solution to improve damaged hair."