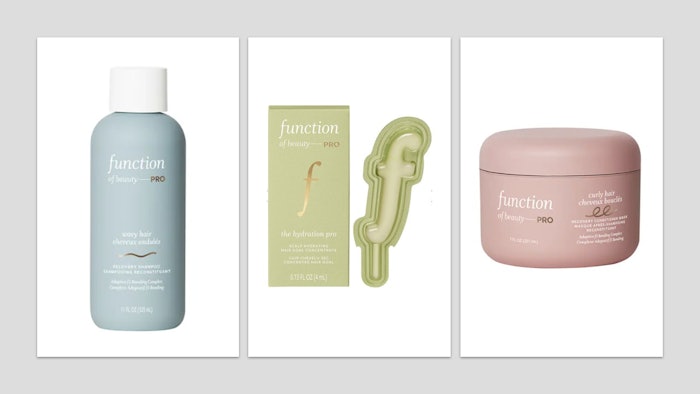 Function of Beauty/Sephora
Function of Beauty has debuted a bond-building range, Function of Beauty Pro, via the Sephora app, with availability expanding to stores starting tomorrow, per new product pages and a series of Instagram posts by the brand.
The range taps Function of Beauty's Adaptive f3 Bonding Complex, which "directly targets damage on each hair strand to rebuild bonds and reduce breakage."
Olaplex is the bond builder category's trailblazer, but since that brand's ascension, brands such as K18, Living Proof and Epres (founded by Eric Pressly, who helped develop Olaplex's foundational chemistry) have jumped into the category.
However, Function of Beauty's entry adds its core competency to the mix: customization.
The new range features:
Conditioner masks for curly, coily, wavy and straight damaged hair.
Recovery shampoos for wavy, curly, coily, and straight damaged hair.
Concentrate mix-ins for extra gloss, dry scalp treatment, curl and coil definition, hydration, scalp oil control, brass color toning for blond hair, anti-frizz, enhanced color vibrancy, and added volume.
The latest range follows the basic model Function of Beauty introduced in 2020 and 2023 for hair care and hair styling, respectively, in which an array of products were launched in Target with available mixers on offer to provide shoppers with the means of achieving various personal hair goals.