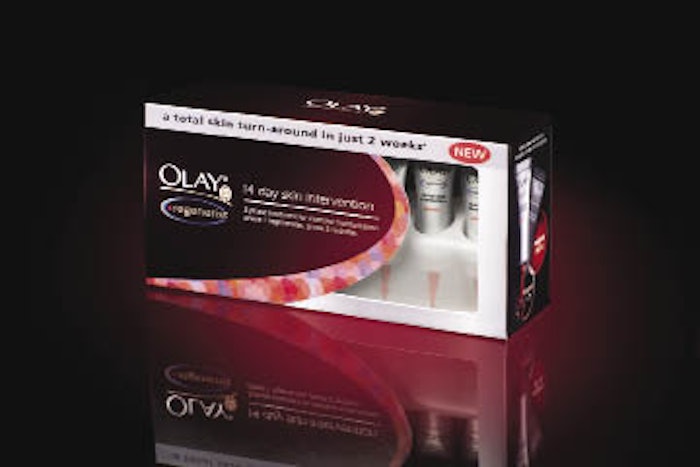 In the initial stages of product development, brand marketers determine what they believe is the best channel of distribution based on a number of factors, including product positioning, target audience and retail pricing structure. Often, they choose selective or exclusive distribution channels due to the nature of specialized selling efforts involved or the high retail price of the product. More recently though, there has been a noticeable trend for brand marketers to develop strategies that reach a broader audience spectrum.
In some cases, the product is a step-down version of what is found in exclusive boutiques or upscale department stores. Vera Wang, the legendary designer of couture bridal and ready-to-wear clothing, has committed to offering her designs to a broader audience.
From her flagship bridal salon on Madison Avenue to Simply Vera, Vera Wang products at Kohl's and the Vera Wang Lavender line sold at retailers such as Nordstrom, she is fast becoming a household name.
Similarly, House of Chloé from Paris, France, has even gotten into the act, launching a line to reach a younger demographic, dubbed See by Chloé. This trend is growing rapidly across many categories and industries and is also taking shape in the skin care category with products such as in-home facial treatments and regimens that have trickled down from the professional level—both physician and pharmacy.
Physician Brands at Home
In our caseload, we have observed a number of physician brands making house calls with in-home skin care treatments and regimens from Patricia Wexler M.D. Dermatology, PerriconeMD Cosmeceuticals, Dr. Andrew Weil for Origins, Murad and MD Skincare by Dr. Dennis Gross.
Wexler's extensive product line comprises an Anti-Aging Starter Kit, a Resurfacing Microbrasion System and a Glyco Peel System. PerriconeMD Cosmeceuticals feature exclusive patent-protected active ingredients in products such as Firming Neck Therapy, Ceramic Eye Smoother and Advanced Face Firming Activator.
Nicholas Perricone himself, holds dozens of U.S. and international patents for the treatment of skin and systemic disease and for the topical anti-inflammatory ingredients for reversing and preventing damage to skin caused by factors such as age, the sun, the environment and hormonal changes.
Origins includes a Plantidote Mega-Mushroom Program said to optimize skin's defenses. In addition, Weil uses turmeric as a key ingredient in the Conditioning Lip Balm offered in the line.
Howard Murad MD, a pioneer in the industry, introduced treatments for use in the comfort of one's own home more than 20 years ago and has 60-plus products to his credit. The Murad Resurgence Collection and an Acne Complex Starter Kit are two of his offerings. With more than 17 U.S. patents for his skin care products and concepts, Murad was one of the first to create a formulation with exfoliating alpha hydroxy acids to treat the signs of aging and to utilize antioxidants to treat environmental damage and signs of aging.
Gross, a New York City dermatologist with a reputation among the fashion and beauty elite, created the MD Skincare line of products billed as the "surgical procedure alternative." The MD Skincare line includes cleansers and moisturizers for more youthful skin, as well as products that address skin conditions such as rosacea and hyperpigmentation.
These leading dermatologists are making a remarkable impact as a result of the research behind and the technology involved in the creation of their skin care regimens. These brands have stories and founders that enhance their credibility. Ongoing product innovation supported by proprietary science keeps these brands fresh and relevant to the consumer. The home personal care segment is soaring with consumers expressing their desires to expand a clinical or salon experience at home.
European Influence
Two other innovative brands migrating into homes first originated in the European pharmacy—L'Oréal's Vichy Laboratories and Roc. Historically, European women were accustomed to visiting the pharmacy seeking solutions to skin issues. Pharmacists often spent more time with customers, and customers, in turn, preferred the individual guidance and on-going relationships.
Vichy is a leading skin care brand in European pharmacies offering soothing Vichy Thermal Spa Water with the latest ingredients stemming from dermatological research. Vichy's home kit, the Peel Micro Abrasion Rejuvenating Resurfacing Kit, was developed and designed by dermatologists for the consumer who has photoaged wrinkles and uneven skin. The complete treatment includes four steps—microdermabrasion, peel, neutralizing soothing solution and ongoing antiaging follow-up care. The kit contains three treatments to be used over the course of three weeks followed by an antiaging regimen after each application for three additional weeks post treatment.
Pharmacist Jean-Charles Lissarrague founded Roc in France in 1957. Roc quickly became the skin care leader in France and Lissarrague brought his antiaging expertise to the U.S. in 1999. He has continued to build on his unique understanding of the skin aging process to develop effective skin care solutions. Collaboration with dermatologists produced a Resurfacing Facial Peel Kit, among other products.
Consumers are becoming more receptive to in-home products, in part, because of the product packaging, which is slowly moving from a less medicinal to a more professional, but approachable look and feel. MD Skincare's packaging is a selection of cohesively branded white bottles and tubes. Functional pump dispensers grace the tops of many of these bottles, which portray a friendly and familiar, white lab coat persona. Perricone's products have a clinical, medicinal personality with an apothecary feel. Murad's tagline "Where skin care meets health care," and the simple and modern bottle shapes, convey a clean and fresh impression in a decidedly professional manner.
In addition to a strict attention to detail in product packaging, Murad also took notice of how the product is merchandised at store level and found that space for information on the shelf is often limited. The company initiated an online effort as part of its marketing strategy in an attempt to be a direct resource to consumers. This interactive online evaluation tool provides personalized information about how to properly care for skin. Visitors provide answers about skin type, skin concerns and lifestyle, including personal habits, brand usage and gender. After completing the online evaluation form, users are directed to a page that briefly explains the products available from Murad in a three-step regimen. The system then generates a complete, personalized report that itemizes each skin care problem. Murad's products target the specific problems and puts the founder's theories to practice.
Procter & Gamble's Olay has a similar online tool that has captured the attention of thousands of consumers. The brand realized that little room is available at point-of-purchase to explain to women the features and benefits of its products and wanted to take a proactive role in helping women with a customized routine suited to their needs. The Web site leads customers through a series of questions that help them determine which of the Olay products and/or regimens will be most effective for them. A printed report is available on demand so that the consumer can take this to the store to assist on their next shopping trip.
The U.S. Impact on Asia
At the same time U.S. consumers adopt European brands and trends, U.S. glamour trends and behaviors are influencing Asia. China is fast becoming a land of opportunity for sophisticated, professionally enhanced skin care products. Due in part to a younger demographic, higher disposable incomes and growing interest in Western beauty trends, Chinese consumers are past the basic skin care regimen of cleansing and moisturizing.
Growing interest in professional level products includes toners, antiaging products and facial masks. More women are entering the Asian workplace and are becoming more aware of how their appearance can affect their careers. Mothers are now actually learning beauty regimens from their daughters. With a long and powerful tradition of beauty culture, perhaps this helps explain the explosive growth in China's beauty sector and a new obsession with extremes of beauty culture, such as plastic surgery, in a market worth more than $2.4 billion, according to China Daily.
In recent years, many middle-class Chinese nationals have visited spas and professional beauty establishments for the first time. In fact, the market for facial treatments is estimated to be the third largest in the world, putting it ahead of any country in Europe.
Physician brands Perricone and MD Skincare are two brands seeing vast potential in the Hong Kong market, for example. Murad recently announced its intention to further expand in Asia in order to meet consumer demand there. Rhei Pharmaceuticals, a fully integrated specialty pharmaceuticals company focused on bringing proprietary medicines to the China market, has licensed from Drs. Hans Schreuder Products the exclusive right to market and distribute the Drs. Hans Schreuder Vision for Health Skin Care line throughout Asia. The natural skin care line will be marketed through Rhei's pharmacy division and sold in pharmacies and spas there. Its flagship scar treatment product will benefit from Rhei's expertise marketing to medical professionals such as dermatologists and plastic surgery clinics.
Based on early indicators, the Asian market for professional skin care, and China in particular, is set to become the world's largest market if current growth rates can be sustained.
Tight Budgets, Mass Appeal
While U.S. consumers are obsessed with maintaining a youthful appearance, our current economy and overscheduled lives may signal a shift in behaviors where consumers search out less costly solutions to meet tighter budgets and realize time savings. With food prices increasing at the fastest pace in 17 years and gas prices soaring, disposable income isn't what it used to be.
Financially strapped consumers, who are not afraid to dig for knowledge about ingredient potency, may discontinue their regular visits to the dermatologist and opt to shop for in-home treatments online, in drug stores, at mass merchants or in beauty and cosmetic retailers.
To address this growth opportunity at mass, Olay has recently introduced a number of products within its successful Regenerist "science behind skin care" line that provide treatments historically only available in a doctor's office, such as 14 Day Skin Intervention, Filling & Sealing Wrinkle Treatment, Daily Thermal Mini-Peel and the Eye Derma-Pod Anti-Aging Triple Response System.
With professional products blurring the line between the physician's office and retail, consumers have more options to consider. Heightened consumer awareness of the benefits of using these products will fuel market growth. And the best part for consumers? No prescription or appointment is required.
Liz Grubow is vice president and group creative director of the LPK Beauty Group.In her 20-plus year career, Grubow has helped develop and manage brand identity programs for some of the world's most successful beauty brands—including Pantene, Olay, MAX Factor International and Cover Girl.