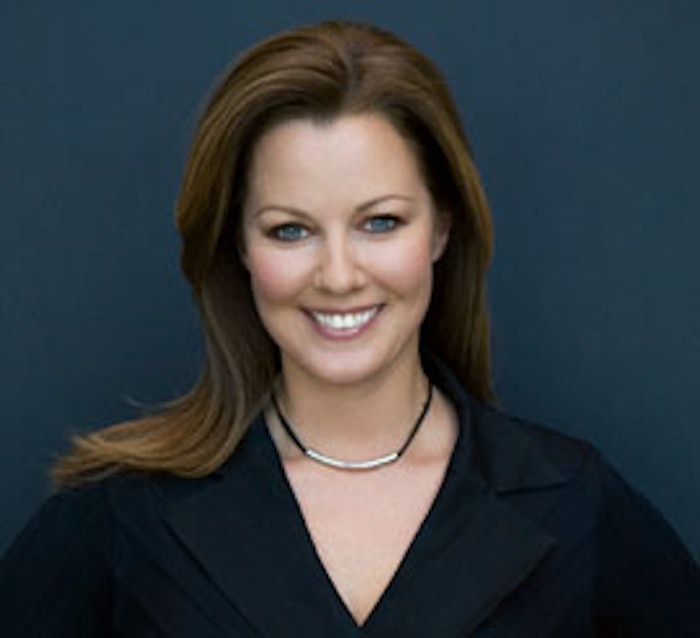 You may have seen her makeup artistry on runway models representing Versace, Dolce & Gabbana and Valentino. Her work on celebrities has been noted on red carpets events such as the Academy Awards, the Golden Globes and the Cannes Film Festival. She even co-launched Nars Cosmetics with Francois Nars, and she introduced Awake cosmetics by Japan's Kosé Corporation to the U.S. However, Sue Devitt's first love, among her many lifetime accomplishments, has been spearheading the creative direction of her own antiaging skin care and cosmetics brand, Sue Devitt Beauty. Devitt spoke with GCI magazine recently about skin care ingredients, business and travel.
GCI: How have you been able to work hands-on throughout product development sessions with your private group of chemists, and how does this give you leverage over competitors?
Sue Devitt: I have brought together some of the best minds in the business through my product development experience in Asia, Australia, Europe and the U.S. We are a passionate and highly creative group, and we all inspire each other, coming together with different areas of expertise and various perspectives. Our standards are high, and it becomes almost a sport between us to exceed expectation and deliver exquisite results—driven formulations, colors and concepts. Our customers know they can rely on this for us, and they love it. We are still a small brand and are constantly on the lookout for the most performance-driven innovations, which allow us the ability to quickly react to fast-breaking developments.
GCI: What gave you the inspiration to enrich your color cosmetic products with seaweed and "microquatic" hydrating minerals?
Sue Devitt: When I introduced the "Sue Devitt Healthy Beauty" concept to the market in 2000, it was clear to me by the extraordinary reaction it received that women were beginning to understand the need for beauty to be more than skin deep…. At the time, no one was calling out ingredient or technology benefits within their products, because frankly, there weren't any. I saw that as a major opportunity…. The "microquatic" name is derived from a combination of micro-emulsion technology and water. As seaweed lives within water, it made perfect sense to continue to fold in the nurturing effects of active marine properties, deeply enriching hydrating qualities and flower derivatives from nature. I wanted to round out an interesting blend of ingredients, while taking a soothing and natural approach to powerful antiaging ingredients by tapping into ceramides II, matrixyl, hysperidan methol chalcone and mdi complex. I thought the derm brands were doing a great job forging new ground, but I found a lack of sensitivity within the formulations. A feminine, nurturing and soothing experience was yet to be delivered to the consumer who appreciates luxury and effective functionality.
GCI: You recently hired Eric Horowitz, former president of Clarins, as the CEO of Sue Devitt Beauty. Why did you make this decision, and how will Horowitz help grow the company in new directions?
Sue Devitt: As a highly regarded businessman in the beauty industry, I was so excited to be able to tap into Eric's reputation and depth of experience as the former U.S. president of a well-known, globally distributed business. As you can see, I am passionate about all that I do, and it was important for me to find someone who brings a high level of brand- building knowledge and a real passion for the business. In Eric, I've found a strong leader, which is what my organization really needed. I am looking forward to our collective development of the brand and having a lot of fun doing it.
GCI: How do your products fill a need in the beauty industry?
Sue Devitt: The brand is honest, high-performance, effective, and it delivers everything it promises and more. There's a conservative approach to the packaging—both for convenience and from sustainability's point-of-view—and the formulations are essential and luxurious, yet affordable.
GCI: How do you relieve stress and balance your business and personal lives?
Sue Devitt: Inspirational trips keep me motivated and excited. I have always liked discovering beauty in the far and distant corners of the world and all beauty-related procedures and practices. I am committed to a healthy lifestyle in terms of nutrition and a regular fitness regimen that includes yoga, pilates, meditation and of course, sleeping well. I make sure I have time for a personal life, including beach walks, bike and horse riding, playing tennis, sailing and skiing with friends. For intellectual stimulation, I surround myself with friends and colleagues who are creative, like-minded and philanthropic.
GCI: You are a world traveler, but what is your favorite destination?
Sue Devitt: Home. It's a place to revitalize, relax and create. It's wherever I am—Australia, New York City or wherever I find my carryon bag, blackberry and cell phone.
GCI: Lastly, how do you believe the beauty industry, specifically color cosmetics, is changing, and what ideas do you think will be important for professional makeup artists to pay attention to next year?
Sue Devitt: Many of today's women aren't interested in trends merely for the sake of being trendy but are also interested in connecting with a brand on a social and environmental level. The women that I know are comfortable in their own skin and are forging their own trends either as entrepreneurs or philanthropists. Making a positive and sustainable impact on our environment, educating, creating jobs… that is what's important. So in terms of that—looking professional, well groomed and savvy—is also as important as figuring out the next season's look.
Editor's note: Sue Devitt Beauty is available in the U.S. at Barney's New York, QVC, select Ulta stores and luxury boutiques and spas. In the U.K., the collection is available at Harvey Nichols and QVC. Sue Devitt Beauty is also distributed in Canada, Mexico City, Korea, Dubai and the Philippines. For more information, read "The Beauty of Color" in the December 2008 issue of GCI magazine.