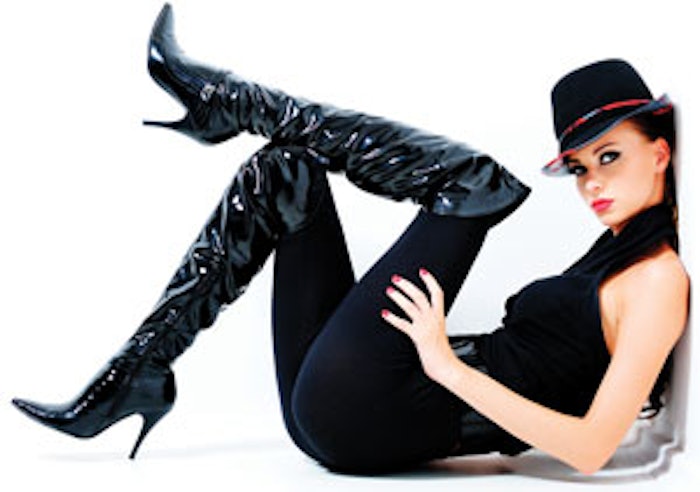 Understanding the changes in general lifestyle trends is key to understanding consumer needs and creating innovations.
Current fashion is "anything goes," with no single trend dominating style or defining a fashion or color season.
Personal style currently rules in fashion, and women make choices regarding their appearance every day, reflected by beauty product choices on any given day.
Makeup artists who work hand in hand with fashion brands are catalysts between fashion and beauty trends.
Women see fashion and beauty as one and the same thing, so says Maryelle Allemand, senior marketing project manager for creative trend forecasting agency, Carlin International.* She maintains that, among other things, a woman's hair style, skin care and makeup are as important as her choice of clothes. "We see it when we look at old pictures," says Allemand. "The emblematic look of the '60s or '80s is characterized by certain ways of wearing hair and makeup, along with the way people wear particular types of clothes. All these elements are like a vocabulary creating the 'expression of femininity' language."
Carlin International helps clients read this language in today's markets in order to anticipate future trends. Furthermore, it works with beauty brands to help them understand long-term trends based on sociological changes. "Understanding the changes in lifestyles is the best way to understand the needs of female consumers and to be able to bring them breakthrough innovations," says Allemand.
A key difference between now and 20 years ago is the easy availability of cosmetic procedures, such as Botox and fillers. Antoinette van den Berg, founder of cosmetics trend and product forecasting agency Future-Touch,* believes that this—along with the advent of digital photography and tools such as Photoshop—means that women can change their appearance at a whim. "It's no longer about having a real image but something that has been worked on," she maintains.
"It's an historical revolution," concurs Allemand, who observes that women have never been so free to express their own individuality as through the way they appear to the world.
Looking back at 20 years ago, fashion trends were more easily defined. Everyone remembers the big hair, "power shoulders" and dark kohl-rimmed eyes of the 1980s. These days, anything goes and there is no longer a single trend or a single season for fashion or color. "At any one time, there are a number of different trends in fashion," says Allemand. "As a result, there are no more strong dictates as in past decades. And that is the same for beauty. It's the result of an increasingly individualistic society since the 1990s."
What counts now is personal style, and women make choices regarding their appearance every day. For example, the choice of wearing a nude lipstick or a stronger color is dependent on mood, occasion and what she is wearing. "There is such a diversity of fashion expression that personal style has become much more important," says van den Berg. "You still have the product of the season but are free to use it and interpret it to create your own look."
Environmental Impact
The environment is another key change in the last 20-year period. "The restrictions on the use of raw materials can sometimes [make global beauty marketing difficult] due to different rules and regulations across the world," says van den Berg. She has worked with beauty product brands wanting to produce one global collection, but because certain ingredients cannot be universally used, the number of products is limited.
The natural trend is also exercising the minds of the formulators in a way many would not have dreamt possible 20 years ago. "But it does not always follow that natural is better than synthetic. For example, mica is a purer substance than other natural alternatives," says van den Berg. "We have to be realistic and use ingredients in an intelligent way."
Other Avenues of Inspiration
The fashion industry is just one area of inspiration for beauty brands. "We often spot a trend first in the arts, then design and architecture before moving into fashion," says Allemand, citing the example of electric blue, which is appearing in color cosmetic ranges such as OPI's cobalt blue, part of its spring/summer collection 2010.
Van den Berg agrees that fashion and beauty are linked, but maintains that there are also important differences. "Cosmetics trends are strongly different to those in fashion, which has two seasons each year. This is not the case for cosmetics. Beauty companies should realize that they are an industry of their own and not a translation of fashion."
She notes, for example, that black clothes are currently out of fashion but black nail varnish is very trendy. "Future-Touch is also talking about the use of eye shadow outside the classical area, for example on the cheeks, and that is not fashion-influenced. Fashion's influence is from the models and the way they wear it, not the clothes." Van den Berg believes a strong influence is from makeup artists who work hand in hand with fashion brands. "What they do is reflect what's hot in fashion, not necessarily translate it literally," she says. "For example, if I see a yellow mini dress in Vogue, it doesn't necessarily mean there will be a trend following for yellow eye shadow."
More importantly, beauty brands need to understand the choices women make with regard to their overall appearance. Allemand calls it a reflection of the time, this famous "air du temps." When you know how to "read" trends and find the sometimes unconscious desires behind any given style, keys to timely and successful beauty and color launches that complement fashion are revealed. "[This ability] allows brands to offer the 'idealized' image women want," Allemand says.
"Fashion is part of women's lives, and the aim with trends is to understand the drivers of their lifestyles. By catching fashion movements and changes, companies get a deeper understanding of women's wants and desires," concludes Allemand.
Imogen Matthews is a consultant to In-cosmetics. For more information, contact www.imogenmatthews.co.uk.