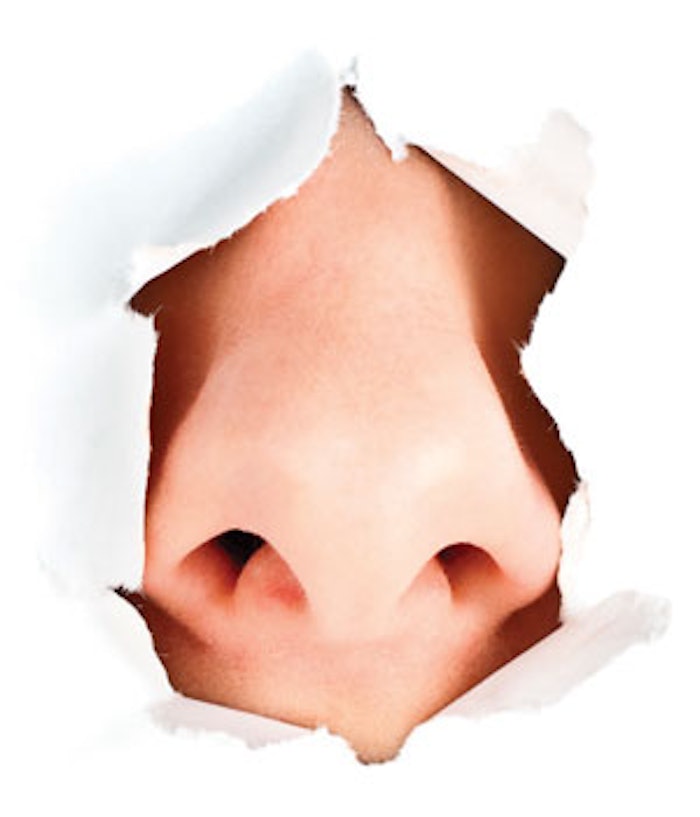 Scent can be key in a product's branding, playing on the emotional connection people often have with fragrance.
Unique elements and clever innovations can often be introduced into products through fragrance, giving those products a unique edge in the marketplace.
Keeping scent as an essential item in a product's marketing mix is smart, as it easily lends itself to connection with consumers on an emotional level.
Increasingly, every element of a beauty product is being scrutinized by and personalized for consumers. From the packaging to the texture of a product, people are becoming more and more choosy about the brands they decide to bestow their loyalty upon, and one of the things that can inspire the most positive associations between a brand and its targeted consumer is its scent. "Fragrance can be as, if not more important than, a brand's logo," says Michael Overstreet, Expedite Services Inc. and Fragrance Design LLC. "Vision is people's most relied-upon sense, but scent often scores a much greater emotional impact. When a woman is scanning the shelves for a new shampoo, she may pick one out because she likes the logo, but, more often than not, the second thing she does is pop open the top so she can smell the product inside. And if she likes it, it is probably going into her cart."
The power of scent crosses age ranges and genders, with consumers always feeling more drawn to a product they think smells good. For the Unilever Axe brand, scent is a key differentiator, something that really separates the bath and body range from its competition. For the various Axe products, the company bases its scent designs and uses in body sprays and bath and deodorant items on consumer research and scientific innovation, taking into special consideration the strong connection between scent and attraction.
Overstreet also cites the continuing development of science as assisting in the creation of more finely tuned scents. "Neurologically, scent is tied very closely to the memory, so brands are looking to include scents that invoke positive memories for consumers and take us back to pleasant experiences via that fragrance," he says. Consequently, the closer a product can align itself with consumers' happy memories, the more likely they are to keep coming back for that particular item—and maybe more of the brand's range of products.
"The idea is to differentiate the fragrance from all the other launches out there," notes Théo E. Spilka, vice president of new business development and licensing worldwide with Firmenich. He explains that it's about offering the consumer the best all-around experience possible—and that's the case for both fine fragrance and scent in products. "You have to keep the product's DNA consistent, through the materials and ingredients, packaging, marketing, distribution—it needs to be kept very specific in order to get a product to feel truly authentic," he says.
Developing a Signature Fragrance
Creating the right fragrance for your products isn't easy, however. "There are certainly challenges to hinging a brand's identity to a certain type of scent, as there can be a distinct polarity with certain types of scent," says Overstreet. And emotional associations with a particular fragrance can vary wildly from person to person. "Patchouli is a classic example where people either love it or hate it—there isn't often a middle ground—and that will significantly affect a product if it includes patchouli," Overstreet explains.
Sometimes, finding the right inspiration can help to create a perfect signature fragrance, whether it is for a fragranced product or a fine fragrance itself. Spilka recently assisted in launching a Beverly Hills-licensed fine fragrance line that was inspired by and created with local southern California flora. "We worked off inspirations of a scent with floral, fruity notes that are indigenous to that part of the state," he notes. "The scent includes notes such as peony and sweet pea that are familiar to that part of the United States. And there were other products, such as the California Redwood tree, that served as further inspiration. Obviously, the redwood is protected and cannot be extracted for use in perfumery, but we really looked to that type of rarefied inspiration for the fragrances' design. The beauty and stature of flora and fruit from California really helped personalize the fragrance."
A unique idea can also bring scent to the forefront of a product's development. For designer Tod Young, founder of Tod Young Inc. and creator of the Palettes home fragrance range, matching scents with colors was his personal lightning bolt. "I asked myself the question, 'If color had a scent, what would it smell like?' and I used that inspiration to create the Palettes line," he says. After researching various color palettes and home décor scenes, Young worked with a perfumer to associate the color palettes he chose—neutral, pastel, primary, jewel, earth and gray—with fragrances. "We worked together to understand how these colors could be interpreted aromatically," he explains. "For example, the primary color has more of a bold punch, while the earth tone is more woodsy." And Young is now working to translate the home fragrances into scents for the beauty industry. "They are very complex, even unusual fragrance combinations," he says of those he's developed. "That helps make them different, helps them stand out."
For the development of scents for its Axe brand's products, Unilever does extensive research before delving into its actual fragrance development, learning about what its consumers currently like and don't like, and then mining into these findings for deeper, underlying insights. From these insights, they create a fragrance brief, which points to the scent notes a new fragrance for a particular product should contain, or at least allude to. Unilever then has three different fragrance houses work on developing this signature scent before working with the houses' consultants and its own in-house brand developers to choose the best iteration of the fragrance.
Supporting the Scent
That fragrance creation can often be supported by interesting ideas. As scent can be such a difficult and subjective element to get a handle on, brand owners often turn to the other senses to help them round out the definition of what they are seeking for the product they're developing.
Of the various scent selections developed for the Beverly Hills line, Spilka says, "The different scents needed to be unique—more sophisticated, more playful, or more adventurous—and we would basically take those important descriptors and interpret them into a fragrance."
Young also found visual language an important element in translating the colors of his Palette products to scent. "I felt it was vitally necessary for the packaging and fragrance to complement each other," he says. "Our packaging uses a lot of white space, and then the given color palette is displayed on the front, so when a consumer is looking at the packaging, they are first immediately drawn to that combination of colors on the box, and then when they open the box, they can smell what they see."
He continues, "Once they experience the fragrance, it clicks in their brain that the colors they saw on the front of the box matches the scent that is presented, and that's really a unique component of this range." To drive the point home for consumers, often just scent isn't enough. The fragrance has to be fully considered and integrated into a brand's development and marketing, even if scent isn't the centerpiece of a product.
Marketing the Right Mix
Creating a strong brand/consumer or product/consumer connection is the eternal challenge, and while scent certainly assists in this, it's also vital to keep the scent in mind as an integral part of the marketing mix. As Young says, "Consumers are always looking for something new and different," and while scent can provide that, it does need to be touted as such in order for it to be brought to consumers' attention.
Axe brand managers note that working with the marketing components of a fragranced product plan is the final stage of bringing said product to life, and it's also an opportunity to tweak and fine-tune the positioning of a fine fragrance or scented product. "The marketing platform needs to support the efforts the scent is trying to achieve," Spilka says. "There are always cultural and societal variations—take, for example, a clean scent for a household hard surface cleaner. To some, that might be citrusy, but to others, that might need to be antiseptic and disinfectant-smelling.
These are elements you have to observe and respect when launching a new product in different locations." Overstreet also acknowledges the difficulty in creating a universally hailed scent, bringing in the need for a focused marketing effort. "There are certainly demographic, geographic, environmental and cultural variables," he says. "Different people have different expectations from beauty products, as well as preferences for what particular products should smell like."
Keeping the overall product consistent while also incorporating its unique elements as a selling point is something Spilka has experienced with previous fragrance product launches. He mentions a note of sweet rolls used in a Jennifer Lopez fragrance that recalled a bakery Lopez grew up frequenting in the Bronx, as well as a special type of white grape note scent captured for Usher's original fragrance, chosen because it grew near the pop star's home base of Atlanta. "It's something personal to them, and it gives the product real associations," Spilka says. It also gives the scent a story to tell outside of its olfactory notes.
"Ideas that mimic and successfully convey the correct brand strategy have to continue to be pushed, beyond just an aesthetic appeal or an olfactory appeal," Spilka emphasizes. "You need to think about everything in the mix."
Staying Fresh
Once you find that perfect scent for your brand and product, and create a successful marketing campaign with that scent as an element, it can be easy to become complacent and rely on the same scent continually. However, a product doesn't have to have just one fragrance variation in order for scent to be used as a branding tool. Axe successfully launches new scent variants for its products each year while still being well-known for the fragrance component of its products.
This is because fragrance, and its interpretation and its position in the market, is constantly evolving. Consumers want to try new things, and brand owners have to be ready to move with them or risk losing them. A range of variables convince a consumer to pick up a product, and, if done right, scent can be a vital element to encourage that transaction. "Fragrance can definitely be a key variable in product adoption," says Overstreet. "With more and more products available all the time, the packaging and perfume of a product are more important than ever in the point-of-sale dynamic."