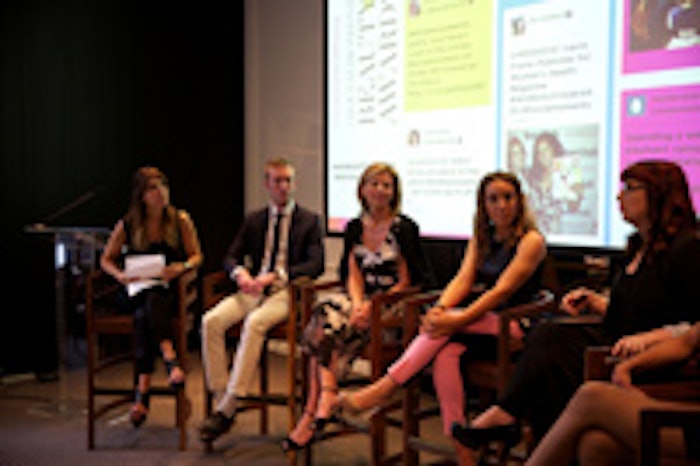 At a breakfast event honoring the winners of the 2013 Women's Health Beauty Awards, taking place on June 13, 2013, in New York, members of the beauty, publishing, marketing, digital and strategy industries joined to honor hot beauty products and learn best practices for social media engagement.
For its 2013 awards program, which was themed #socialmoments, Women's Health magazine centered its categories on life social's moments—"On Vacation," "After Hours," "At the Gym," "At Work" and "Every Social Moment." And to help brand owners and marketers develop smart social strategies, the event convened an expert social media panel to offer attendees information, advice and tips on how beauty brands can build strong social media relationships with readers and consumers, as well as how to develop, launch and maintain successful social media campaigns.
Panelists included Debra Ann Bednar, global director of strategy and growth for creative solutions, Facebook; Ria Tobaccowala, lifestyle partnerships lead, Google+; Danielle Macaluso, assistant vice president of public relations, L'Oréal Paris; Rachael Ostrom, executive director, consumer engagement, Aveda; and Chris Rackliffe, senior social media editor, Women's Health magazine; with Michele Promaulayko, editor-in-chief of Women's Health, as the panel moderator.
Some of the highlights from the panelists' dicussion include Ostrom noting, "You have to have a different strategy for each social platform." And Promaulayko commented, "It's about figuring out a style guide for your brand voice," while Ostrom added, "That's true. For example, Aveda does not use exclamation points for the most part."
Regarding realistic engagement, Bednar commented, "You have to maintain a creative thread throughout your posts." And Macaluso said the engagement "must be authentic or your audience will call you out." Tobaccowala also commented, "People rally around interest and community for a more authentic conversation."
About serving consumer and brand goals with social media, Bednar said, "Being bidirectional with your conversation and serving the customer first is important," while Tobaccowala reminded, "The visual nature of platforms is driving interest." "As our lives become more mobile, they become more visual," Rackliffe added.
On knowing your audience and content, Macaluso said, "In order to be a true content strategist, you have to read everything," and Tobaccowala noted, "Follow by example: observe your top five brands to see what they do online to learn more."
And on making sure social media is worth the effort, Bednar commented, "There's a perception that social media is free. You have to make sure your social strategy is driving your business objectives." And Ostrom noted of Aveda's strategy, "Our overall social goal is not sales, instead we use it to create personal relationships."
For more information on the 2013 Women's Health Beauty Awards event, as well as a list of winners, click here.