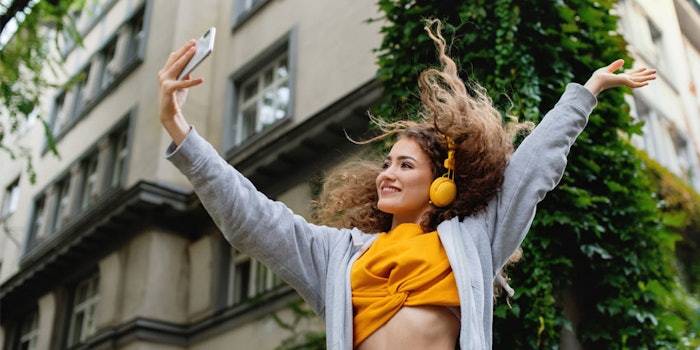 Due to the flourish of DIY beauty tips and makeup tutorials on Tik Tok, the most prominent beauty trends of the year, such as #colourfullashes, #contourmapping and #freckles were born. By jumping on those trends, early-adopter cosmetic brands have been leveraging the potential of Tik Tok as a marketing tool. This way, many brands could make themselves a name without having to invest much. 
Now that the boom is fading, it's time to develop a well-designed Tik Tok strategy.
The Peculiarities of Tik Tok
Tik Tok's popularity among beauty brands is not coincidental. There are three factors determining marketing success on Tik Tok: 1) its video content, 2) how the platform works and 3) its unique user demographics. 
First of all, since beauty products are inherently about aesthetics and looks, video content is the perfect way to showcase the effects of these products. Cosmetic brands can use the video format to demonstrate how their product covers eye shadows or how glossy their lipsticks are. 
Secondly, Tik Tok differentiates itself from other social media platforms due to its algorithms. The content that shows up in people's feeds on Instagram is mainly influenced by the number of followers a user has. In contrast, Tik Tok evaluates content and how users engage with that content (e.g., when they share, stitch, or comment on a video).
That's why people without followers but with creative ideas can go viral just like veteran users.
Third, Tik Tok is valuable to cosmetic brands because of its users' demographics: 60% of Tik Tok users are Gen Z. Next year, 74 million people in the United States will be part of Gen Z, making it the largest generation investing in beauty products.
Further, Gen Zers are trendsetters, and they are known to be environmentally conscious and interested in social issues and values. The trends they create on Tik Tok carry over to the outside world, proving the strong dependency of platform popularity and real-world marketing success.
The Gateway to E-commerce
The platform is becoming more serious about e-commerce. Tik Tokwill soon allow brands to sell their products through their accounts and influencers' accounts. Therefore, the ability to generate direct sales with Tik Tok is another reason why brands should leverage their image on the platform. Let's review four strategies with which brands can gain traction.
1. Tik Tok Content that Works
First of all, Tik Tok works best with short, digestible and entertaining video content. The perfect time range of a clip is between 15 and 45 seconds. As a rule of thumb, you can assume the longer the content, the more value it needs to provide the viewer.
Tik Tok allows up to 60 seconds, which is an ideal length to showcase a product or share a video tutorial with entertaining effects, music, and creative ideas. 
Direct promotions should only make up 20% of shared content. The rest of the videos should be only indirectly promotional and add value to the viewer.
To match that goal, cosmetic brands can give valuable tips and share educational content (about how they make their products, e.g.) to their audiences. MAC Cosmetics, for example, is showing its audience how to lip contour perfectly, attracting millions of views.
2. Influencer Marketing on Tik Tok
Selling gummy vitamins for hair, SugarBearHair has grown from a petite firm to a worldwide known vitamins brand. How? By leveraging the social proof, micro-influencers have on Tik Tok.
When they started to send their vitamins to people interested in healthy hair, nails and skin and to feature them on their pages and social media accounts, they gained immense brand awareness among their target audience.
Influencer marketing is the base strategy for brands to push brand popularity and generate sales. Influencers help reach the right audience. They provide brands with the necessary social proof if they advocate for their products. A recent study shows that 66% of consumers ages 18-29 trust recommendations from influencers. 
Hiring and finding influencers is no rocket science. The easiest way is to use influencer platforms that let you filter by industry, desired platform and follower base and show you price and collaboration type. 
When you have found the perfect match between your brand's values and an influencer, it's time to allow them to engage with their audience. Instead of setting strict rules, your brand will benefit from your influencer's creative content ideas as they best understand what their audience loves and engages with.
Look for content collaboration ideas between cosmetic brands and influencers featured on beauty brands pages, such as  AlpynBeauty.
3. How to Jump on and Create Trends
Jumping on Tik Tok beauty trends, trending songs, hashtags and beauty challenges is a simple but effective way of generating buzz. Makeup brush and transformation challenges  have been a massive wave for beauty brands to hop on. 
To create trends like these mentioned before, brands should examine trending topics with the discovery function and brainstorm what their target audience would be interested in. At best, a challenge easily doable from home with minor prerequisites.
4. Showcase Your Brands' Values
As mentioned before, the largest user group on Tik Tok is young, environmentally conscious, and politically active. These users care about the values of brands and products they buy. Sixty percent of Gen Z wants to change the world, compared to 37% of millennials. That's why content that suits this generation's interest to make a better world performs exceptionally well. 
Let's imagine your company is organizing social projects to improve social issues and justice in your country. Or, another example, your products are made from environmentally friendly ingredients and you protect the environment by reducing plastic use.
Then explain to your audience about your mission, your company's values, and your projects in your videos, and stylize your videos with enticing effects, music, and filters.
Tik Tok is only four years old, but its resounding success as a marketing tool in the beauty industry shows plenty of room for growth. That's why it's crucial to act now and develop a precise marketing strategy, including trend creation and influencer collaborations.