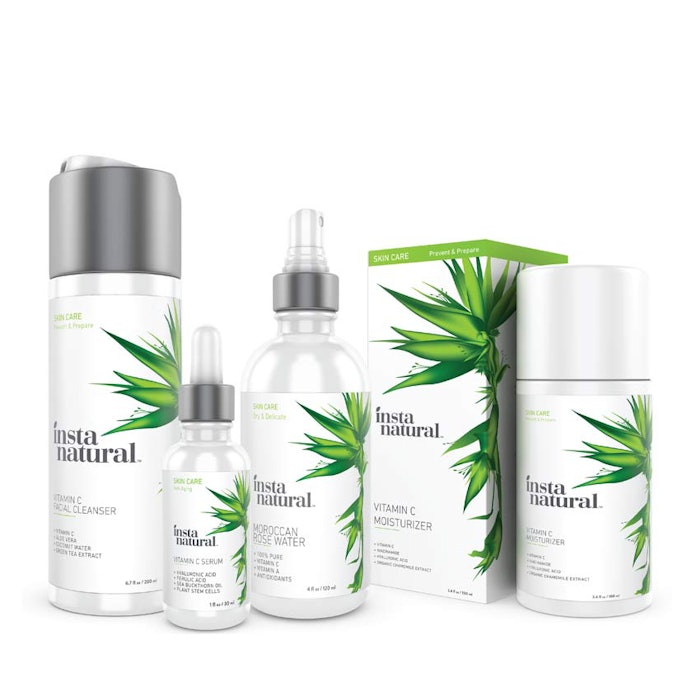 As InstaNatural—a pureplay e-commerce natural skin and body care brand—entered its third year on the market, chief marketing officer Ethelbert Williams set about revamping its packaging and formulations ahead of a multichannel expansion. He did so in five months.
Williams told Global Cosmetic Industry that InstaNatural's products, including aromatherapy and hair care items, have been selling via the brand's website; it is also one of the best-selling beauty brands on Amazon in the United States, with rising sales on the retailer's German, French, Spanish and Italian sites.
Engaging the Consumer
To capture a piece of the $36-billion skin care market (manufacturers' level, according to Kline), Williams set about creating a brand experience online for shoppers who discover and buy beauty in the digital space. Williams was careful to scale the brand to ensure it was consistent and relevant across channels.
According to Williams, as many as 58% of beauty category consumers have an initial brand touchpoint online. In the social and digital space, where consumers rely on ratings, tips and tricks, InstaNatural created blog content to establish itself as an information resource.
The brand hosts a studio in its Central Florida headquarters, which features a sink and living room, camera and lighting equipment. Content and tutorials can be shot and posted quickly to keep shoppers engaged. InstaNatural also curated reviews to enhance its visibility and became more agile on social media.
Expanding the Channels
Under Williams' guidance, InstaNatural transformed into a multichannel brand that partners with retailers such as Walmart, where its moisturizers, facial cleansers and collection (including deodorant) are available; Walmart-owned Jet.com, which Williams says is "growing like crazy;" and, of course, Amazon. The expansion has been rapid, Williams explained, with InstaNatural moving from vendor review to launch with Walmart.com in about 90 days.
Williams restructured the InstaNatural team around talent that understood that the digital landscape is changing rapidly. While the brand is largely focused on e-commerce at the moment, it is building a multichannel future and will launch in at least eight new channels by the end of the year.
Redesigned Packaging
Williams thought about how the brand looked "on the digital shelf," and so redesigned the line to, in the brand's words, "reflect [InstaNatural's] commitment to using naturally derived ingredients and delivering effective products with excellence." The new packaging features a clean design with a visual signature of a bold bird of paradise flower to evoke "magnificence, excellence, success and optimism."
Ingredient Focused
Today's consumers aren't brand-loyal, said Williams. Instead, shoppers tend to focus on ingredients and are likely to use the search box to discover brands. Which is why, for example, InstaNatural highlights vitamin C in its serum and cleanser product.
Consumers increasingly believe that what they put on their skin is as important as what they put in their body. As a result, InstaNatural rebooted its formulations for the "discerning shopper," as Williams put it.
InstaNatural's new formulations "have even more power than before to deliver naturally, radiant skin," according to the company. The range includes the Vitamin C Cleanser ($21.97), InstaNatural Vitamin C Serum ($17.95), InstaNatural Vitamin C Moisturizer ($19.97) , InstaNatural Glycolic Cleanser ($19.97), InstaNatural Moroccan Rose Water ($13.97) and InstaNatural Fractioned Coconut Oil ($13.95).
The company will introduce new product innovations later this year as its retail footprint expands.