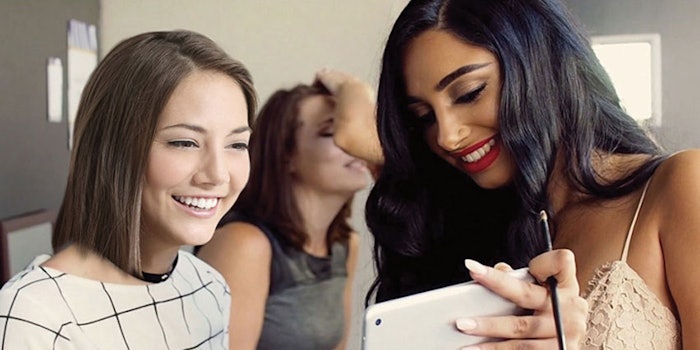 Try Before You Buy
Millennials build trust with beauty brands or particular products through online reviews, which could be sourced from YouTube beauty vloggers, Instagram stars or beauty bloggers. They can also build trust by trying the product on in-store prior to making a purchase decision, particularly if they're concerned with texture, smell, taste or any other quality of a product.
The most technologically advanced way to try on makeup is by using augmented reality through a digital makeup app. According to the Poshly survey (see sidebar), 78% of respondents said they are more inclined to purchase makeup from a brand online if they can virtually see what it looks like on their face before purchasing. This is huge for pure-play online brands that struggle to reach their audience.
67% of poll respondents said they'd be more likely to purchase makeup if it came with a tutorial on how to apply it.
"For beauty brands, digital beauty is the next major wave that will create a dramatic shift in the beauty industry," said Sinead Norenius-Raniere, board member, Bay Area Beauty Association (BABA). "For many brands, they are still trying to navigate how to embrace and adjust to this new generation of beauty buyers. For beauty brands who are still testing the waters of the virtual world, digital makeup presents a unique opportunity to connect with millions of consumers and offer a virtual 'try-on.'"
Even with the help of the virtual makeup application through apps and devices, there is still a need for tutorials, which can be delivered through video, live streaming or step-by-step pictorials. A reported 67% of poll respondents said they'd be more likely to purchase makeup if it came with a tutorial on how to apply it. When it comes to hair products, hairstyles and color, 85% of respondents said they'd try something new if they could conduct a virtual try-on through a selfie or photo on their smartphones.
Supplementing the Influencers
Chances are, you know someone who has purchased a beauty product that they heard about on YouTube—or maybe you are that person, who got sucked into buying a $100 foundation because you liked the way it looked on the vlogger. Makeup tutorials on YouTube are increasing 65% year-over-year, and are taking over beauty buyers' smartphone screens all over the world, according to a study by Pixability**.
"Millennials are changing the game for the beauty industry," said Doreen Bloch, CEO and founder at Poshly. "YouTube and Instagram beauty stars have taken over as their go-to experts on beauty. This is a dramatic shift from previous generations. These influencers provide the education on beauty they trust and serve as inspiration for experimenting with new beauty products."
However, what looks good on YouTube may not work for everyone. That's where the virtual try-on goes hand-in-hand with the beauty guru's suggestions. A reported 78% of the poll respondents said they would be more inclined to purchase a YouTube or Instagram guru's recommendations if they were able to try them on virtually.
Gaining the trust of the social media influencer community, and having the product accessible virtually in the palm of the millennial shopper, could be a big step in pushing businesses ahead in the digital living arena.
Engaging the Consumer
Behind every beauty brand or Fashion Week show is a genius makeup artist that creates new looks season after season. Having the ability to virtually try-on innovative artist-inspired looks with a simple tap on a smartphone helps consumers feel included and special, and gives them the chance to create the looks at-home that are straight off of the runways.
Virtual makeup is quick, easy, and very accessible for consumers of all ages—whether they're using it to spiff up a selfie to post on social media, or to try out a new lipstick color from their favorite brand before they make the splurge to buy it. It brings brands closer to the consumer, helps create an interactive experience and takes the guesswork out of trying on a rainbow of lipsticks before the right shade is found.
Footnote:
***www.pixability.com