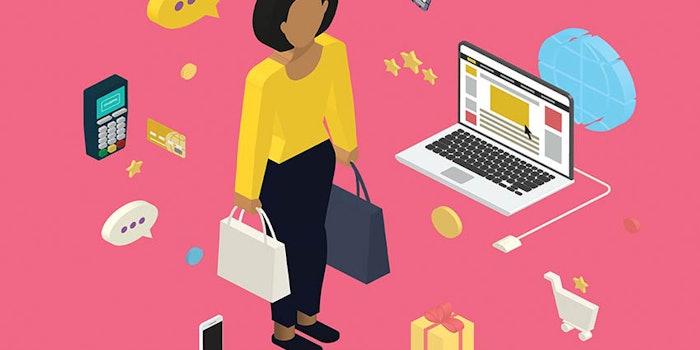 InstaNatural (instanatural.com) promises "Your Search for Naturally Radiant Skin Ends Here." The brand, which recently underwent a refresh, has introduced SKUs such as an Age-Defying Eye Cream, Micellar Water, Moroccan Rose Water, Vitamin C Cleanser, Dead Sea Mud Mask, Glycolic Peel and Dual Phase Mattifying Toner. Here, CMO Ethelbert Williams, discusses his strategy for his brand's makeover.
—Editor
It's critical to realize that how women shop today has been completely transformed by access to information, social influencers, unlimited choice and price visibility.
Today's online beauty retail landscape is all about discovery. At InstaNatural, we've found that 58% of beauty category shoppers begin their purchase journey online, and 73% use their phones for research while in-store. Core insights like this have been the foundation for how we are not only creating amazing product solutions but also curating brilliant ways for her to engage with our brand.
Know Where They Are
InstaNatural has expanded beyond a direct-to-consumer ecommerce business to include an online presence with many merchants, including Amazon, Walmart, Jet and Zulily, with more in the pipeline. And, because content is critical to winning in the market with our online retailers, we've quickly boosted internal capabilities including a new studio, as well as acquiring content marketing talent that allows us to tell our brand's story within these new channels.
Our brand architecture has been simplified to support a more intuitive shopping experience.
Know What She's Looking For
Our core consumer shops based on ingredients and how-to information and is looking for feedback. As a result, InstaNatural has a solution-first mentality, which is very different than thinking brand-first.
The consumer may not have a brand in mind when shopping, and so it's important to curate an experience for her that allows our brand to be discoverable along her shopping journey. This impacts everything we do with our brand experience, including developing content around the brand that elevates how we're differentiated.
Fitting the Brand to the Experience
One of the biggest adjustments we've made while quickly transitioning into an omnichannel business has been our brand's transformation and assortment.
With our channel expansion, we introduced a cleaner and fresher package experience that told a more cohesive story. It features a bird of paradise flower representing magnificence, excellence, success and optimism.
Learn what's working for you and cut the rest.
Our brand architecture has been simplified to support a more intuitive shopping experience. In addition, as we move into new channels we must offer a stronger assortment. As a result, we've improved our formulations and have launched into new categories, including at-home professional grade skin care treatments.
Final Thought: Be Bold
We are still building. The challenges we've experienced as a brand have centered around new capabilities and developing teams. Much of what's driving online retail today is new for everyone, so be bold with talent and take bets on people. Find smart professionals, motivate them and give them runway.
Next, take risks with social media and content. We all recognize the importance of these channels for engaging our audiences, customer service and loyalty. Experiment and pilot as much as possible with new marketing technologies.
Finally, quickly learn what's working for you and cut the rest. We've personally had a lot of fun exploring live video format for online consultations as well as leveraging personalization tools to actively engage our online shopper.
___________________________________________________
Ethelbert Williams (www.linkedin.com/in/ethelbertwilliams; @tellnation) has more than 16 years of global commercial leadership experience in consumer and B2B sectors. He currently champions global marketing, brand development and sales strategy for InstaNatural, a leading ecommerce consumer products company. Williams previously drove go-to-market and channel expansion for the personal and facial cleansing category at Kimberly-Clark Corporation. He has held leadership roles at Procter & Gamble, L'Oreal and Unilever. Williams is also an active investor and advisor to exceptional entrepreneurs. He holds a Bachelor of Science from the Medill School of Journalism at Northwestern University.