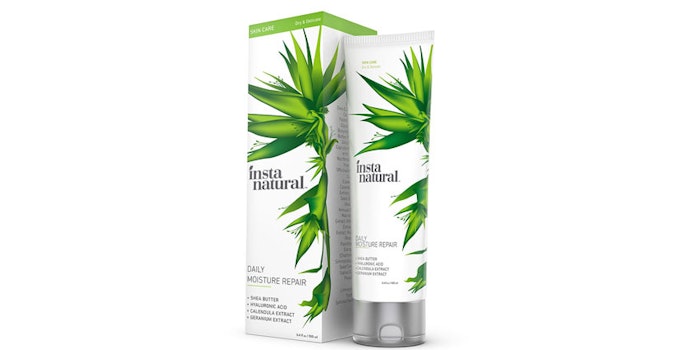 On November 21 InstaNatural will release its newest moisturizing product, InstaNatural Daily Moisture Repair. After receiving requests for a moisturizer specifically created for dry and sensitive skin, InstaNatural created this moisturizer as a natural solution without harsh ingredients.
Fresh off of a brand reboot, InstaNatural has introduced new packaging and formulations for its collection of products. The Daily Moisture Repair is just one of the new formulations that use a blend of botanical ingredients. The moisturizer aims to support a healthy skin barrier, calm redness and irritation and reduce dryness and flaking.
"After just a few months of researching ingredients and product testing, we are excited to introduce the Daily Moisture Repair. This new launch is a great example of our ability as an e-commerce brand to act quickly, connect directly with our customers, identify what they are looking for and deliver," explains Ethelbert Williams, chief marketing officer at InstaNatural.
Ingredients include: aloe vera, shea butter, hyaluronic acid, calendula, sea kelp, marshmallow, rosehip, rosemary, passionflower, chamomile, jojoba, carrot, geranium, argan, olive, coconut, grapeseed, avocado, sunflower and meadowfoam oils.
The retail price will be $16.97 and can be purchased at instanatural.com, Amazon, Jet.com and Walmart.com.