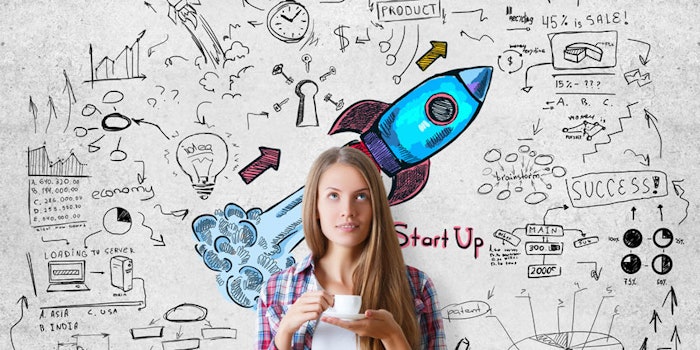 Lisa Kovner will be blogging all month on beauty brand strategies, from Brand vs. Branding to Getting a Buyer to Say "Yes" and Forecasting. Be sure to read Kovner's previous posts, "Who Needs a Business Plan? You.," "Beauty Distribution 101: Getting Your Products Into Their Hands," and "Ops are Essential to Your Beauty Brand." -Editor
You dream of owning your own beauty brand and are ready to set things in motion. The big unknown is what it will cost to launch. The short answer is that it can cost as much or as little as you want. Realistically, startup costs can range from the low- to mid-six figures to appropriately launch a brand in the beauty industry.
Unfortunately, many beauty entrepreneurs put virtually all of their money into product development and packaging, leaving little to nothing left for marketing, sales, distribution, ops infrastructure or future product development. This is a costly mistake that immediately puts a new brand at risk.
The following five steps can help identify the minimum startup costs to launch a beauty brand… 
Step 1: Brand strategy
This is your first step. It's where you lay out what your brand is all about. It can be 5 pages or 100, but it needs to clearly answer specific questions. You can learn more about brand strategy here.
In terms of cost, working with a brand strategy expert can cost $5,000 or more. It will be an excellent investment in your brand's future. You can also choose to do it yourself. Share the completed strategy with others to ensure it gets people excited. Choose people who aren't going to tell you it's "awesome," "fantastic," "perfect" or any other superlative. You want honest feedback such as "I don't get it…" 
Step 2: Marketing, sales and distribution plan
The marketing, sales and distribution plan puts the brand strategy into practice and answers, in more detail, the questions that impact product development, pricing, packaging, brand identity, etc. It also includes a budget for ongoing implementation costs.
As with brand strategy, if you hire someone to help you with the plan, it can cost $5,000 or more. If you do it yourself, make sure your plan is comprehensive and properly budgeted.
Planning isn't the same as budgeting for monthly implementation costs. On an ongoing basis, it's recommended that five to 10 percent of revenue be assigned to marketing budgets. If a brand is not yet earning revenue, expect to spend $3,000.00 per month or more (usually more) depending on whether you're working with an expert or DIY.
Step 3: Creative brand strategy
Creative branding is not a logo. It's the look and feel of a brand, which means there's a story attached to it. Creative branding is directly related to the brand strategy, personas and plans created in Steps 1 and 2.
Whether you choose a freelance graphic designer or a graphic design firm, a creative brand strategy can range from $3,000 to $15,000 or more. What do you get with creative branding? A logo, photography direction, typography cues, iconography, sample expression in the form of business cards, a website home page and/or packaging cues that help you source the type of packaging your personas and retailers are most likely to get excited about. 
Crowdsourcing platforms such as 99designs.com offer elements of creative branding, but they aren't capable of delivering a comprehensive creative strategy necessary for a brand to claim its position in the saturated beauty market.
Regardless of the direction you choose to go, share the brand strategy with the designers so they understand your expectation, but more importantly the brand's "why" and the personas' expectations. 
Step 4: Product development 
Product development costs can range widely depending on whether you choose private label or contract manufacturing. Private label costs vary widely; do due diligence on formulas, verify the accuracy of INCI panels, etc. since you're selling someone else's product with your logo on it. For contract manufacturing budgets, plan on $3,000 to $6,000 per SKU, not including testing. 
Just because a product is "all-natural," "organic" or "vegan" doesn't mean people won't have a reaction to the formula. At a minimum, budget for stability testing (determines the amount of time between opening product and product degradation) and RIPT testing (determines whether or not people have an allergic reaction or other sensitivity). Do yourself a favor: pay for the testing. It costs less than consumers posting negative comments about your brand or potential lawsuits. Step 5: Package design,
Step 5: Package design, sourcing and production
This is typically where most entrepreneurs jump into the branding process. It's the "fun" part that can cost your brand dearly if it's not strategically designed.
99designs.com or other crowd-sourced design platforms: a website design can cost between $599 for 1 page to $1,199 for five pages (you will need more than five pages), product packaging can cost between $449 and $1,699 or more PER SKU for primary packaging. Unit cartons, website programming and product photography cost extra.
Working with a graphic designer or design firm can cost significantly more, but there's a higher level of service and design options more connected to the brand strategy. Expect to budget in the neighborhood of $1,500 to $10,000 per SKU, including package design, flat and 3D comps plus sourcing.
Printing and packaging production aren't included. These costs depend on the number of SKUs, the type of packaging (custom versus stock), MOQ, etc. 
Let's not forget ops infrastructure costs
The most overlooked startup costs associated with brand launches can also be the exact things that make or break a brand launch. Warehousing, fulfillment, shipping, customer service all come at a hard cost.
Even when a brand chooses to DIY on warehousing and fulfillment, there are shipping and customer service costs (e.g., a toll-free phone number through Grasshopper.com). Be sure to research these costs and assign an appropriate budget to these essential brand activities.
Want to know more? Dummies.com offers a broad top-line overview for what it can cost to launch and maintain a brand with estimates ranging from low-end to high-end. The bottom line is that launching a brand will always cost more than you think it will, and as a brand founder, it's important you be realistic about what those costs are, when they will be spent and how soon you'll be able to start earning revenue.