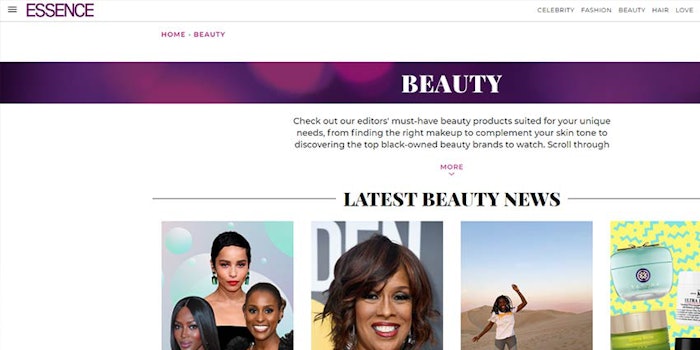 Essence Ventures LLC, which was founded by Sundial Brands founder Richelieu Dennis, has acquired Essence Communications Inc. from Time Inc. Unilever recently acquired Sundial Brands for an undisclosed sum.
Michelle Ebanks, president of Essence Communications, will continue in her role and will join the company's board of directors. It was also announced that the all black female executive team of Essence, including Ebanks, will have an equity stake in the business.
The company stated that the acquisition "will focus on expanding its digital businesses via distribution partnerships, compelling original content and targeted client-first strategies. In addition, the brand will expand its international growth by planting its rich content ecosystem, including the flagship magazine, digital properties and successful live event franchises, in more global markets with women who have shared interests and aspirations."
Ebanks said, "This acquisition of Essence represents the beginning of an exciting transformation of our iconic brand as it evolves to serve the needs and interests of multigenerational Black women around the world in an even more elevated and comprehensive way across print, digital, e-commerce and experiential platforms. In addition, it represents a critical recognition, centering and elevation of the Black women running the business from solely a leadership position to a co-ownership position."
Richelieu Dennis, founder and chairperson of Essence Ventures, added, "The strategic vision and leadership that Michelle has provided to ESSENCE over the years have been exemplary, and we are thrilled to work with her and her talented team to provide the necessary resources and support to continue to grow the engagement and influence of the ESSENCE brand and transform this business. As importantly, we are excited to be able to return this culturally relevant and historically significant platform to ownership by the people and the consumers whom it serves and offer new opportunities for the women leading the business to also be partners in the business."