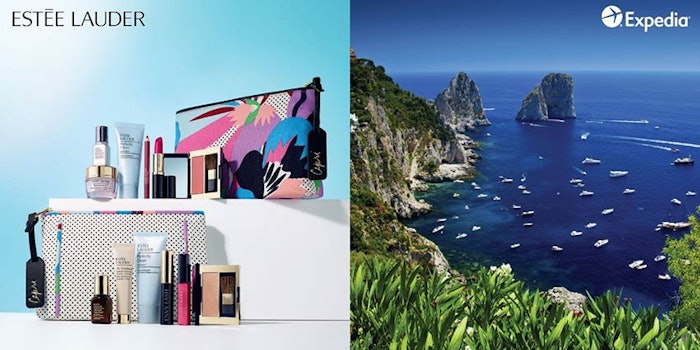 Estée Lauder is teaming up with full-service travel site Expedia.com to offer customers the chance to win a trip to one of the eight locations that served as inspiration for Estée Lauder's North America Spring 2018 Gift-With-Purchase Collection. As show in recent research, highly prized iGen consumers are eager travelers.
Locations include Morocco, Bali, Santorini and Capri. To enter, customers must make a qualifying purchase from the brand, which includes an exclusive printed cosmetics bag, as well as a curated selection of the best-selling products, at no additional cost.
Additionally, they must take a selfie of their best makeup look for a dream trip destination, uploaded to Instagram with the hashtags #esteeexpediacontest and the unique hashtag for their destination of choice (such as #flymetomorocco). Contestants can also enter via email.
"We are thrilled to work with Expedia on this exciting initiative," said Lisa Sequino, senior vice president and general manager at Estée Lauder North America. "As a brand, we are committed to creating meaningful experiences for our customers and this collaboration allows us to offer a unique opportunity combining beauty and travel."