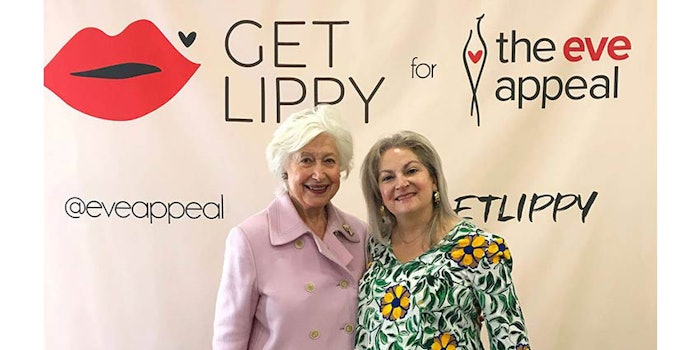 @cewuk/ via Facebook.com
CEW UK has teamed up with women's cancer charity The Eve Appeal, as well as a number of retail and beauty brands, to launch the Get Lippy campaign.
The consumer-facing campaign aims to encourage people to "Get Lippy" about women's health and the early signs and symptoms of gynecological cancers. Participating retailers will donate £1 or 10% from every lip product sold in May to the initiative; proceeds will go towards research into early detection, risk-prediction and prevention of women's cancers.
Related: [slideshow] 15 Top Innovation Trends from CEW's London and New York Product Demos
Research funded by The Eve Appeal has shown that screening the entire population for breast and ovarian cancer gene mutations (compared to just screening those at high-risk_, could prevent 17,000 ovarian and 64,000 breast cancer diagnoses.
Retailers include Tesco, Harvey Nichols and Oliver Bonas. Beauty brands include:
Vaseline: Lip Therapy 20g tins in Original, Aloe and Mirror Mirror available at Tesco
EOS: Lip Balm Spheres in Sweet Mint, Strawberry Sorbet and Coconut Milk available at Tesco
Hourglass: All Hourglass lipsticks in the ICON shade including Confession Ultra Slim Lipstick, Opaque Rouge Liquid Lipstick, Girl Lip Stylo and Extreme Sheen High Shine Lip Gloss available at Harvey Nichols and Space NK
Elemis: Lip Revive Conditioning Balm, White Flowers Eye & Lip Make Up Remover and Pro Definition Eye & Lip Contour Cream available ELEMIS.com and ELEMIS stockists nationwide, including Harvey Nichols
Oliver Bonas: Gin & Tonic Lip Balm tins and Pink Fizz Lip Balm tins
Bali Balm: Available online at balibalm.com
"We are thrilled to be working alongside such a breadth of powerful brand partners and beauty names for Get Lippy and their support is so important in making these health issues easier to talk about," said Athena Lamnisos, chief executive of The Eve Appeal. "Challenging taboos and raising awareness, the Get Lippy campaign will be a huge boost towards funding for The Eve Appeal's pioneering research to save women's lives through the early detection and prevention of all five gynecological cancers. We all need to Get Lippy this May, and every May from now on."
Adds CEW UK president Caroline Neville: "We believe the Get Lippy campaign will make a lasting impact on women's health. I've always felt very strongly about encouraging women to speak out, speak to each other and take responsibility for their own health. Get Lippy reflects the current cultural relevance around female solidarity and women coming together to speak out for themselves. By being bold and standing together, we can break taboos and start a continuing dialogue that will save women's lives."