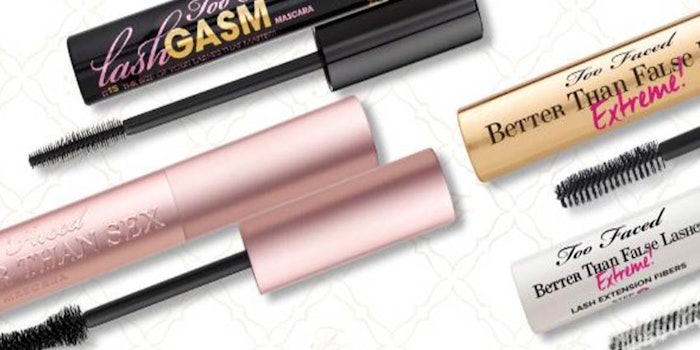 The Estée Lauder Companies strategy for 2017 and beyond will focus on the continued boost of its prestige beauty category, which benefited from acquisitions of Becca and Too Faced, and expanding its presence in travel, online and specialty-multi retail channels in the face of declining department store sales. The news comes as the company announced a net sales gain of 3% in the second quarter of 2017, totaling $3.21 billion.
Makeup
Makeup sales rose 4% to $1,306 million, driven by new product offerings and channel expansions, double-digit increases from Tom Ford in every region (lip color, in particular, including The Soleil Color Collection), strong growth from Estée Lauder (especially Double Wear and Pure Color Envy) and La Mer (particularly the Skin Color Collection), and "solid" gains in specialty-multi for Smashbox.
Makeup was negatively impacted by drops in Clinique and M•A•C, which were hurt by department store declines.
Skin Care
Skin care rose 1% to $1,248 million, driven by double-digit gains in every region from La Mer, strength in the Estée Lauder brand (such as the Advanced Night Repair Intensive Recovery Ampoules and Revitalizing Supreme+) and Glamglow.
Declines were experienced in the Clinique and Origins brands, as well as lower sales in Asia Pacific, especially Hong Kong.
Fragrance
Fragrance rose 6% to $497 million, driven by double-digit gains from luxury brands Jo Malone London (including the Basil & Neroli launch), Tom Ford, Le Labo and Frédéric Malle, and incremental sales from By Kilian.
The category was offset by declines in the Estée Lauder brand and designer fragrances.
Hair Care
Hair care dropped 8% to $137 million, "primarily due to a difficult comparison with several Aveda product launches in the prior year," according to the company.
Other
The "other" category dropped 9% to $20 million.
"Incremental sales from the company's recent acquisitions of By Kilian, Becca and Too Faced contributed approximately 90 basis points to sales growth, of which less than half is attributable to Too Faced," according to Estee Lauder.
"We expect sales and profit growth to further accelerate in the second half of our fiscal year, due largely to strong product innovation, increased consumer coverage and improving trends in certain brands and markets."
"Our second quarter sales growth accelerated as planned, reflecting the benefits of our portfolio diversity by brand, channel, product category and country," said Fabrizio Freda, president and CEO. "Our small, mid-sized and luxury brands continued to lead growth, contributing strong sales increases, and recent acquisitions added incremental sales. Additionally, among our large brands, Estée Lauder and M•A•C each grew in constant currency. We achieved strong double-digit growth in our most profitable channels including travel retail, online and specialty-multi. Sales growth accelerated in most product categories and every geographic region in constant currency."
He continued, "We have strategically invested in these growth engines to produce strong results, as well as position us for continued future success. For the quarter, our profits were higher than expected, reflecting our ability to leverage sales growth and manage expenses. During the quarter, we completed the acquisitions of Becca and Too Faced. We are excited by the opportunities these fast-growing brands bring to our company. Both brands complement our makeup portfolio, which is the fastest-growing category in prestige beauty, and strengthen our position in the specialty-multi retail channel globally. We have ample room to expand their consumer reach."
Freda concluded, "We expect sales and profit growth to further accelerate in the second half of our fiscal year, due largely to strong product innovation, increased consumer coverage and improving trends in certain brands and markets. We plan to make targeted investments throughout the balance of the fiscal year to support and grow our brands. With our plans in place, we expect 2017 fiscal year constant currency sales growth of 6% to 7%, which includes approximately 1% of incremental sales attributable to the recent acquisition of Too Faced. We now expect constant currency earnings per share growth of 8% to 9%, before charges, which reflects $.04 of dilution related to Too Faced."