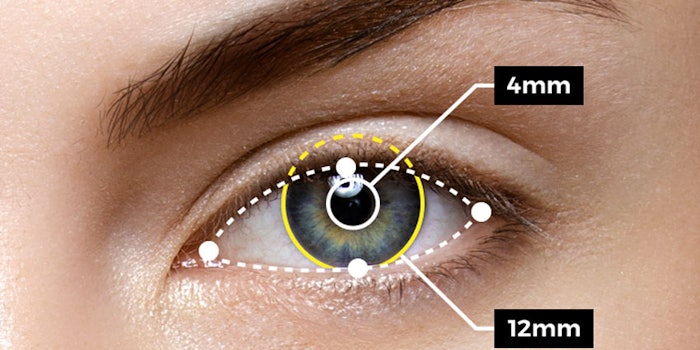 ModiFace has launched its newest augmented reality (AR) technology geared towards the beauty industry, the Face AI tracking and analysis SDK for Android and iOs devices.
ModiFace has found that apps and mobile sites incorporating makeup video previews can lead to increased conversions of as much as 84%. Brands including Sephora and Estée Lauder are already utilizing Face AI for video makeup simulations.
According to the company, Face AI allows applications using mobile video to determine the eye gaze direction on a screen and measures a user's skin texture, spots and wrinkles as well as head post and the measurements of the face and facial features.
Not only can is this type of technology be beneficial for consumers "trying-on" makeup, but also for getting promotions in front of those consumers. Based on initial tests, a 27% increase in clicks to purchase was evident with gaze-based product promotions. These promotions would appear after a user virtually applied and read the product's name.
Utilizing Gaze-based Promotions
Brands can set up gaze activation steps: a user reading a product's name or spending over 2-3 seconds gazing at product simulation or swatch.
After the activation step: a promotional banner, message or button would appear to prompt further action––learn more about an ad or buy the product.
CEO of ModiFace, Parham Aarabi, stated, "The ability to provide timely promotions based on what users are looking at is a significant step forward in personalizing AR experiences."
Update: 
Modiface has released insights in partnership with Smashbox Cosmetics regarding the impact of eye tracking for mobile beauty apps. 
According to Modiface, the most popular product category was Smashbox's Always On Liquid Lipstick, representing 49% of all products focused on by users. The second most popular category was Smashbox's Cover Shot Eye Palettes whose products, representing 12% of all products focused on by users. 
Deeper analysis of 8,819 mobile users found...
When the call to action button for purchasing products was permanently placed visibly near the top of the page, regardless of the user's gaze location, the conversion rate was 6.2%. 
When the call to action button for purchasing products was hidden and only displayed when the user tried on and read the name of the product, the conversion rate was 7.9%.
This represented a 27% increase that the company attributed primarily to the eye gaze-based interface.