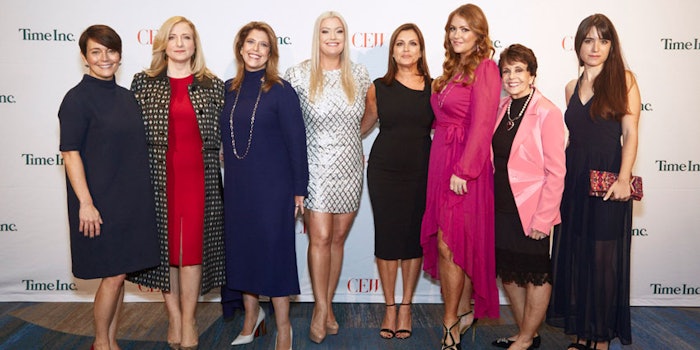 Cosmetic Executive Women (CEW) held the 42nd Annual Achiever Awards, on September 15, to honor the success of six women for their leadership and contributions to the beauty industry. 
This year's honorees included:
Barbara Calcagni, President, NARS
Maureen Kelly, CEO & founder, Tarte
Jamie Kern Lima, co-founder and CEO, IT Cosmetics
Gemma Lionello, executive vice president, GMM, Accessories & Beauty, Nordstrom
Loretta Miraglia, corporate senior vice president, Global Brand Product Development & Innovation, La Mer
Kelly Vanasse, vice president, communications, P&G Global Business Units
The event also saw the inaugural presentation of the CEW's first Philanthropic Achiever Award to Linda Marshall, founder of the Jame E. Marshall OCD Foundation. Linda has helped raise nearly $3.5 million to support research for those suffering from obsessive-compulsive disorder. 
Carlotta Jacobson, president of CEW, stated, "Cosmetic Executive Women was the first-ever organization to commit to the advancement of women in our industry. We established the Achiever Awards not only to recognize women's accomplishments and contributions, but also to inspire and empower other women to pursue paths to leadership. The 2017 honorees represent a diverse range of talent and disciplines of our industry."
Honorees are nominated by CEW's Board of Governors and selected by a special Achiever Awards committee. The awards were presented during a luncheon at the New York Hilton Midtown.