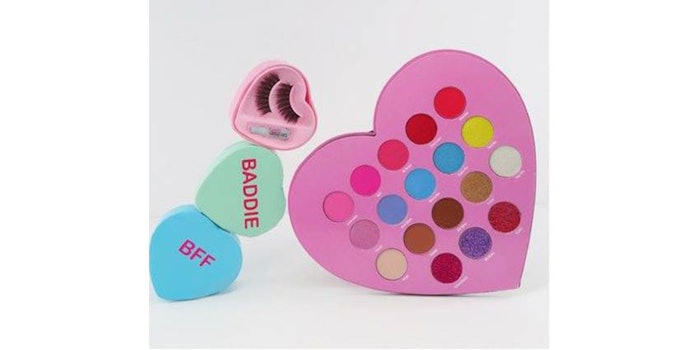 Sugary Cosmetics has launched the Sweetheart Collection, inspired by conversation hearts, which includes a heart shaped palette covered in conversation hearts.
Previously: How KKW Fragrances celebrated Valentine's Day
To honor the Valentine's Day treats, Sugary Cosmetics added a chocolate scent to the palette, which has 18 shades, all with fun, flirty names and retails for $29.
The Sweetheart Collection also includes three style lashes, 100% cruelty free, which can be worn up to 25 times and retail for $12. The lashes come in a heart shaped boxes, each with their names written on top to imitate conversation hearts as well.
Additionally, the Sweetheart Collection features a 12-piece makeup brush set. Each brush has small hearts printed on them and comes with a protective case. The brushes are cruelty free and retail for $28.
To accompany the collection, Sugary Cosmetics also introduced extra accessories, like heart shaped makeup brush cleaners and beauty sponges in a heart shape.