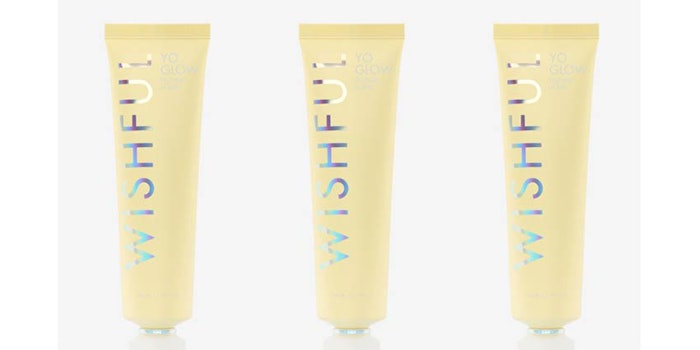 Huda Beauty has launched its skin care line, Wishful, with the line's first product Yo Glow Enzyme Scrub.
Yo Glow Enzyme Scrub, a lightweight, milky exfoliator, combines enzymes, acids and gentle physical exfoliators. The product aims toward targeting uneven skin tone, acne scars, dullness and skin texture.
Ingredients:
Papaya fruit extract is meant to smooth and increase skin clarity and help fight free radical damage.
Pineapple fruit extract is meant to gently exfoliate, reduce dark spots and soothe skin.
AHAs: Citric, lactic, malic and tartaric acid are meant to dissolve dead surface skin cells, reduce dark spots, improve skin tone and texture and hydrate skin.
BHAs: Salicylic acid, which is water-soluble, is meant to penetrate pores and dissolve the "glue" holding together sebum and dead skin cells.
Cellulose is meant to act as a physical exfoliator to gently remove dead skin cells for softer, smoother skin.
Hydrating ingredients: Glycerin, sweet almond oil, coconut and rose flower extracts are meant to soothe and hydrate the skin.
Retailing for $39, the scrub is available on the Huda Beauty website and will be available in stores on February 16, 2020. Retailers carrying Huda Beauty include Sephora, Harrods and Cultbeauty.
The brand features clean ingredients—all of which are certified clean at Sephora—and Wish Lists that say exactly what the product does for the skin.
As part of the launch, Wishful has its own Instagram that promises to always be a no Photoshop, no filter, no Face Tuning and no makeup zone. The campaign claims its photos are real skin and results, with no retouching.