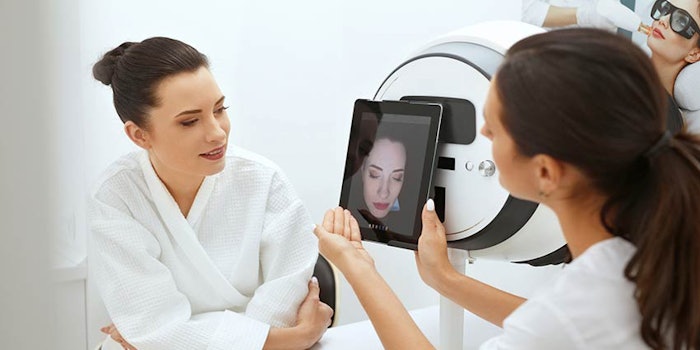 Face Haus is partnering with Atolla to launch the Me, Myself & I facial exclusively at its NYC location, 1140 3rd Avenue New York, on March 16, 2020.
Atolla is a skin health company that leverages machine learning to deliver customized skin care products that evolve as skin changes with the seasons, environment and age using actual skin data.
Born at MIT and developed by board certified dermatologist Ranella Hirsch, MD, Atolla captures precise details about individual skin needs, allowing people (and Face Haus' expert estheticians) to know skin like never before.
Its first data-driven facial, the Me, Myself & I facial utilizes exact information about personal levels of hydration, oil, pH and absorption plus the skin care expertise and touch of Face Haus' estheticians.
The Me, Myself & I facial gives users a powerful treatment combination: a custom facial and a custom product.
After receiving their first truly personalized, data-driven facial at Face Haus, the guest's tailored serum is shipped directly to their door. All Atolla Serums use the highest quality gluten-free and vegan ingredients and are free from artificial fragrance, preservatives, phthalates, parabens and sulfates.
First, guests will answer a brief series of specific questions aimed at formulating the best in-house treatment and serum for their skin.
Next, an esthetician will perform an enhanced skin analysis and consultation–including measuring oil, moisture, pH level and determining texture and absorption preferences. This information is used as a basis for creating a personalized facial that best addresses the skin's unique type and conditions.
The data collected is instantly transmitted to Atolla to formulate a serum customized just for the guest. Within approximately one week, guests will receive their free custom Atolla serum.