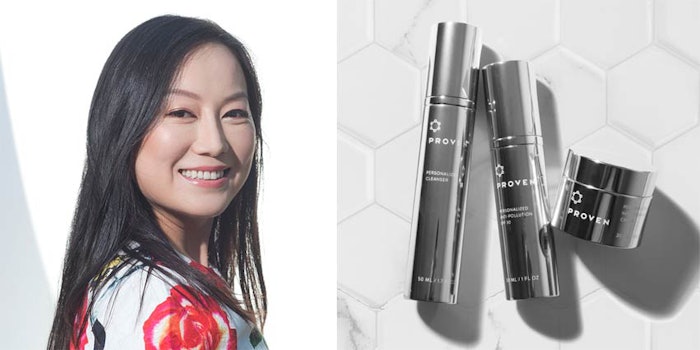 Proven Skincare, reportedly the first company to combine artificial intelligence (AI), personalization and big data in skin care, is launching a $60 million Regulation A+ offering as it plans to file for an IPO. 
Previously: [update] Olaplex Files for IPO
The company was founded by Ming Zhao and Amy Yuan, a data scientist and computational physicist from Stanford University. Update (Sept 24, 2021): We recently had the opportunity to interview Zhao about the future of the company; see the discussion below.
Zhao says the company wants to make the offering to allow female investors to succeed and grow their wealth with Proven.
The proceeds of the funding round will be used to build AI talent and invest in further AI innovation and new product R&D.
Co-founder Interview: Ming Zhao
What AI capabilities does the brand need to build further?
Zhao: The AI capabilities we've built have already won us major technology awards including MIT's AI Technology of the Year Award as well as Nvidia's Deep Tech Inception award, where we beat out hundreds of other pure-play AI companies.
So PROVEN is not a consumer company dabbling in AI, we're an AI-first company with a consumer model. So further development of AI will see us taking our robust AI capabilities, and expanding it into other channels within wellness to complete our vision of building a portfolio of personalized wellness companies, across the spectrum of personal care areas be it body care, hair care, baby care, vitamins and supplements, fragrances, etc.
What's even more exciting, is that our AI capabilities and database are constantly improving and ingesting new data, so that eventually our Skin Genome Project will become the de facto source of truth for everything in beauty.
What type of product innovation will the brand pursue?
Zhao: Our customers are constantly asking us for more products. So we've been taking their feedback, and have been in R&D for a pipeline of new products, some of which will come this year, and others will be unveiled next year too.
What distribution models will the brand pursue? Any brick-and-mortar partnerships on the horizon? Other models?
Zhao: At this time, PROVEN operates on a DTC model. Moving forward, we will open our model to an omnichannel strategy and pursue avenues including with retail partners, pop-ups, PROVEN stores, as well as spas and other similar outlets.
What type of growth has the brand experienced since its founding?
Zhao: The brand has experienced exceptional growth since its founding. We grew more than 2,000% our first year in the market, and now have $24 million in revenue run-rate in less than two years of launch and have built a customer base of over 100,000 paying customers.
This is largely through the U.S. market, with a recent (June) launch into Canada. This growth has been achieved due to our AI-driven approach that is akin to traditional tech companies where 80% of customers are on a subscription-based model.