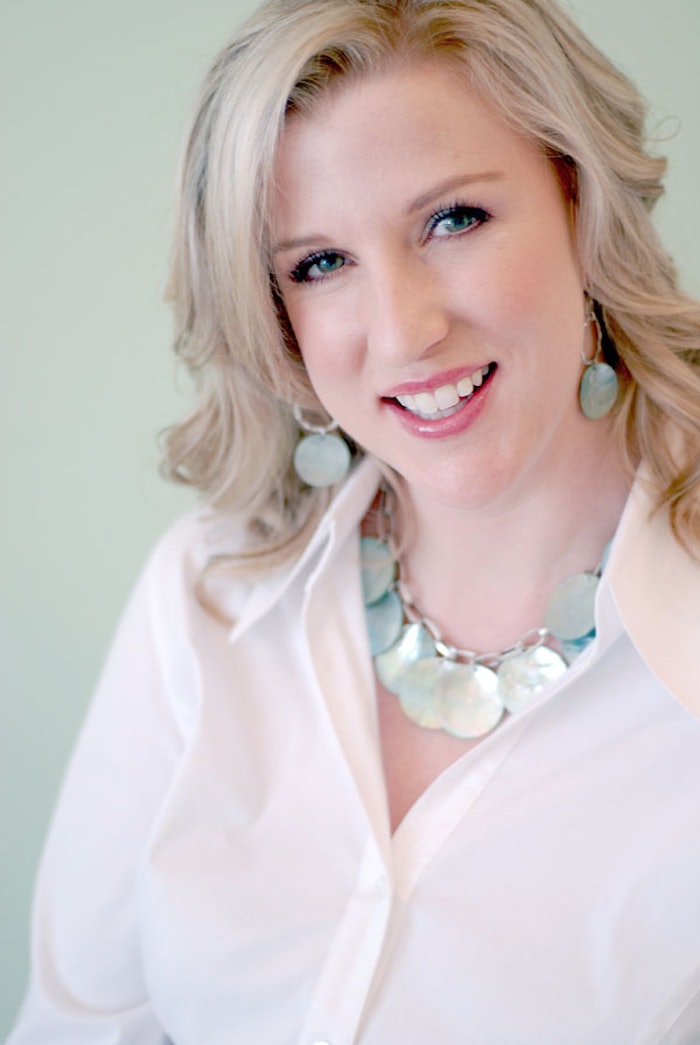 Renée Rouleau, Founder, Renée Rouleau Skin Care Salon
Web:
www.reneerouleau.com
Renée Rouleau recently discussed her newest spa, which opened in Plano, Texas, this January 2008, with GCI magazine.
What was the process involved in formulating the Renée Rouleau Skin Care product line, from concept to the shelf?
Rouleau: It's been a work in progress for the last 20 years. I work with eight laboratories that offer different specialties to create formulas based on my nine skin type concept. As an esthetician and working with skin, I have studied a lot about ingredients and created a standard for which ingredients I refused to use in my line. When I work with a lab, I am very clear about giving details of what I want the product to have in it, the results it will give, and the consistency and overall composition of the product. They send me a mock-up formula to test, we go back a forth a few times to get it "just right," and then it's filled into my packaging and ready to sell. It was a challenge to find labs that would work with small companies, but luckily they were willing to work with me. And to this day, I still work with all of them.
How do your products fill a need in the industry?
Rouleau: As an esthetician, I learned long ago that you can't categorize skin into only three skin types: dry, normal and oily, as so many lines still do. Many people are dry, normal, oily, with breakouts, with wrinkles, with pigmentation, with sensitivity… [but] what skin type are they? My categories are based on nine different skin types with each type listing seven characteristics to define that skin type, so consumers can choose a skin type that addresses all of their skin concerns and therefore, getting better results with their skin. Because of having extensive skin types, my line has over 50 products.
Who are some celebrity clients who use your skin care products? Which products, specifically, do they swear by?

Rouleau: Our most recent celebrity is the beautiful Lisa Rinna. She has great skin and looks fabulous for her age. She's in our Skin Type #6 (normal/anti-aging) and loves everything. But she does swear by our Anti-Cyst Treatment, a product designed specifically for cystic acne.
What are some of the special treatments given at your skin spa, which feature products from your specific skin care line?
Rouleau: Synergy 7 Facial ($600) is a synergy of the most advanced techniques and action ingredients using a balance of traditional hands—on touch with machine technology. It takes the seven best age-defying facials and combines them into one amazing two-hour treatment. Most of what we use in the facial is professional-strength products for use in the treatment room, but we do use our Pure Radiance Mask, Vitamin C & E Complex, and Firming Eye Therapy. Essential 5 Facial ($150) addresses the five areas that show aging the most; face, neck, eyes, lip and hands. Again, it's primarily professional-strength products but we do use our Rosemary Mint Cleanser, Hawaiian Nourishing Cream and Skin Drink.
What cosmetic/personal care product can't you live without?
Rouleau: Powder papers from Whole Foods. I'm lucky because I do produce oil (so I have my own internal moisturizer), but I like to keep the shine under control, especially for photos.
When did you found your professional skin care spas in Plano and Dallas, Texas, and why did you pursue that challenge?
Rouleau: I first entered the Texas market in 1996 when I opened in Dallas. After eight years, I relocated to Plano, a suburb just outside of Dallas. I am now opening up my second skin care spa [in] January 2008 in downtown Dallas. Like so many estheticians who enter this profession, the ability to improve someone's skin, their appearance and their self-esteem is so rewarding. My grandmother was in the beauty business and owned her own beauty salon, so as a child, I was exposed to this. I saw firsthand what it was like being in a profession where you improve how people view themselves. She loved it, and I knew I would, too.
What have been the milestones thus far in your career?

Rouleau: Milestone #1: A business partner and I opened a skin care salon in Wellesley, Mass. in 1991 when I was just 21 years old. I was young, full of energy and enthusiasm and was completely fearless. Our business thrived, and even though I sold my half of the business to her in 1996 when I ventured out to Texas, she is still one of my dearest friends.
Milestone #2: Starting my life and my business over in 1996 when I moved to Dallas—I was longing to live in the South—yet, I did not know anyone when I arrived. Again, being young, enthusiastic and fearless.
Milestone #3: My AHA/BHA Cleansing Gel won the 2007 Allure magazine Best of Beauty award. I was there with some big companies, and it was such an honor to be recognized. There is still room for a small sized company like mine to compete in the marketplace. I know I have a unique concept and editors do love it. We've gotten great press.
Milestone #4: I've always said that I would never open a second location, but after almost 12 years, I'm going to take the plunge. The demand for our services—largely from celebrities who stay downtown when they are visiting—and the tremendous expansion going on in the city is bringing us downtown. It's very exciting and will definitely accelerate our growth.
Who is your business role model?
Rouleau: I enjoy reading about other women in the beauty business and the successes they are having; Bobbi Brown, Laura Mercier, Laura Gellar, Marcia Kilgore and Sally Herschberger. I'm ready to take my company to the next level, so I'm trying to figure out what the right growth strategy is for my company and I follow their stories for inspiration and incite.
What is the key to balancing your business life and personal life?
Rouleau: For me, I don't have a lot of balance, but I do have joy. I love working on my business, it's all that I want to do. So as long as I have happiness in how I spend my time, it works for me. But my husband and I do enjoy traveling and riding our motorcycles, when we make the time.
How do you relieve stress?
Rouleau: Exercise is the best stress reliever for me: a good five-mile run, and I'm cool as a cucumber.
How would you recommend your clients relieve stress at your spas?
Rouleau: We always let our clients know that it's so important for them to take care of themselves. Many women will put everyone else's needs before their own, so we like to encourage them to focus on themselves, too. Facials offer benefit both inside and out.
How do you believe the spa/beauty industry is changing, and what news or trends do you think will be important for professionals to pay attention to in 2008?

Rouleau: Having been in the industry for 20 years now, I've seen tremendous growth and change through the years. When I first started, facials were for rich women with a lot of time on their hands. Yet, dermatologists would say facials were a waste of time and washing with bar soap and water were just fine. Fast forward 20 years [and] facials are considered part of anti-aging and skin health management; dermatologists have embraced our industry and are now a part of it. In fact, we get many referrals from doctors and dermatologists who send their patients to us to maintain their results after cosmetic skin procedures. But with all of the awareness brings more competition, and you have to find your niche to make sure you stand out. I recommend being cautious about following the trends. Yes, you must be aware of the trends, but you must find your own way to be noticeable in the crowd. I've recently read a fabulous book called The Inside Advantage by Robert H. Bloom. It's a must for anyone wanting to beat to their own drum.
What are projects on your roster now, and what are your future professional goals?
Rouleau: I recently updated my logo and completely changed the look and feel of my product line. It was a tremendous task to change 50 products, and I am thrilled with the end result. I'm currently working on our new Web site to update it with the new look and feel of the products, and the new location is keeping me very busy. As for the future, I'm ready to kick it up a few notches, and lately, I have had some great offers to do so. But I won't act too quickly. I've been in the driver's seat of my company for the past 20 years, so I need to thoroughly investigate all of the opportunities for growth before I sign on any dotted line. When the right opportunity comes along, I'll know it. My instincts have never failed me.
Editor's note: For more information, see GCI magazine's February 2008 issue, both in print and online, or read Rouleau's BeautyUnion profile here.