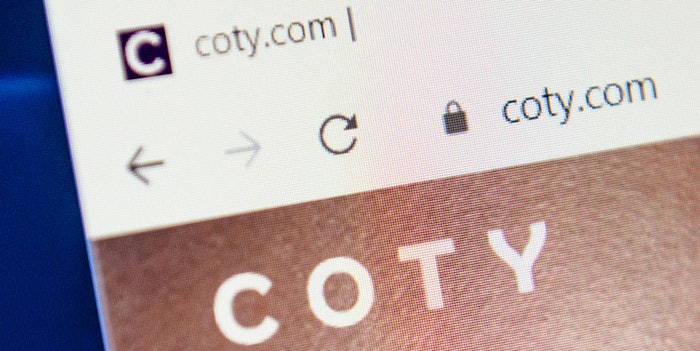 Coty's first quarter 2022 net revenue increased 22% from $1,124.1 million in the same period 2021 to $1,371.7 million.
Gross margin increased from 58.6% to 63.2%, year-over-year.
Gross profit was $866.9 million, compared to $659.2 million the previous year.
Net income for Q1 was $228.9 million, compared to 227.3 million the previous year. 
Prestige Beauty
Net revenue for the prestige beauty segment was $870.7 million, compared to $644.4 million the previous year. 
E-commerce sales for the segment increased 21%.
The segment generated an operating income of $132.1 million, compared to a reported operating income of $34.0 million the previous year.
Consumer Beauty
Net revenue for the consumer beauty segment was $501.0 million, compared to $479.7 million the previous year.
E-commerce sales for the segment grew 27%.
Reported operating income was $11.4 million, compared to an operating loss of $13.7 million the previous year.
Sue Y. Nabi, Coty's CEO, said:
Our objective coming into fiscal 2022 was to build on the great results we delivered last year and further execute on our strategic growth pillars. I am very pleased to say that we are off to a great start, building upon our success. Q1 marks the fifth consecutive quarter of Coty delivering results inline to ahead of expectations. Importantly, our Q1 results exemplify the virtuous cycle that we have been working to create, where our strong topline performance coupled with sustained gross margin expansion and cost initiatives, fuel both profit expansion and targeted re-investments to support future growth.
Coty's successful execution across each of our strategic pillars is exemplified in our Q1 performance. The repositioning of three key Consumer Beauty brands—CoverGirl, Rimmel and Max Factor—are taking hold, returning the overall segment to growth and pushing the Consumer Beauty business to share stabilization. Gucci Flora and Burberry Hero are well on their way to becoming global fragrance icons, helping to accelerate our prestige fragrance portfolio, while the assortment and distribution expansion of Gucci and Kylie cosmetics are solidifying Coty as a key player in prestige cosmetics. In skin care, Lancaster is building momentum in Hainan as the lead market for its repositioning, with several exciting initiatives to come in our skin care portfolio in the coming months. Our e-commerce sales continued its momentum, with strong growth across both prestige and consumer beauty, with total e-commerce sales up 23%. And the combination of these areas fueled close to 50% growth in China. Finally, on sustainability, we have concluded our footprint study reflecting Coty's scope following the Wella divestiture, and will be publishing our second sustainability report very soon.
Importantly, even as we tracked industry-wide headwinds ranging from select component shortages, supply chain bottlenecks, and inflationary pressure in materials and freight, the strength of our business model and the agility of our teams allowed to us to exceed our sales guidance and deliver nearly 500 bps of gross margin expansion. We feel confident about our prospects for the remainder of the year and we are therefore raising our FY22 sales outlook to low-to-mid teens growth from our previous guidance of low teens growth. While inflation impact is expected to step up in the second half of FY22, we believe the impact is quite manageable, particularly as we double-down on accretive innovations and premiumizing our portfolio. As a result, we continue to expect gross margin expansion for the year as compared to FY21. We expect FY22 adjusted EBITDA of $900M at a minimum, as we are intentionally reinvesting our gross margin gain and costs savings in our brands to maximize value.
Fifteen months into our turnaround, I am highly encouraged by the strength of our portfolio, our people, and our strategic path, which together are delivering results in record time as we transform Coty into a true leader in beauty. I look forward to sharing more details on our progress and medium term trajectory at our Investor Day in New York City next week on November 18th.