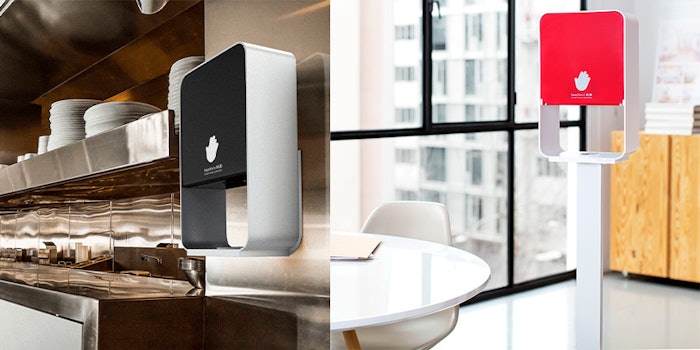 Touchland, a personal care brand featuring hand sanitizing products, has announced a 12,091% increase in annual B2B revenue for 2020, compared to 2019.
Related: Retail Roundup: Revolution Beauty, Mented and More
This revenue growth was driven by continued demand for Touchland's commercial hand sanitizing unit, the KUB Smart Hand Sanitizer Dispenser, an IoT-enabled dispenser.
In 2020, KUB sales represented 40% of Touchland's total revenue, up from approximately 3% in 2019. Additionally, the brand saw a 69% increase in B2B KUB quarterly sales from Q3 2020 to Q4 2020.
Touchland has aligned with businesses including Equinox, sweetgreen, Louis Vuitton, Four Seasons and Target to install KUB Dispensers.
As part of the ongoing strategy to develop the B2B channel, Touchland recently expanded its team with the addition of Sami Fishbein, director of B2B Sales. Fishbein brings experience in B2B sales and was most recently senior account executive, outpost partnerships at sweetgreen.
Touchland's new e-commerce platform, Touchland for Business, experienced a 127% sales growth from Q3 to Q4 2020, following its August 2020 launch. 

Ed Krafcik, head of U.S. business development at Touchland, said, "Between the increased demand for KUB and the launch of Touchland for Business, the growth our B2B channel has experienced in the past year has been exponential. As businesses have grappled with reopening under heightened safety and hygiene protocols, owners and management staff are turning to Touchland to provide a solution that not only blends in seamlessly with the aesthetic of the space, but also gives their employees and customers a great user experience and peace of mind."
Andrea Lisbona, founder and CEO of Touchland, said, "2020 was a record year for our B2B channel, as well as for Touchland overall. We are so excited to welcome Sami to the Touchland family and can't wait to see how she leverages her expertise to propel the brand's presence and continues to deepen our relationships in the world of retail, restaurants and hospitality, fitness, corporate and commercial real estate and more!"