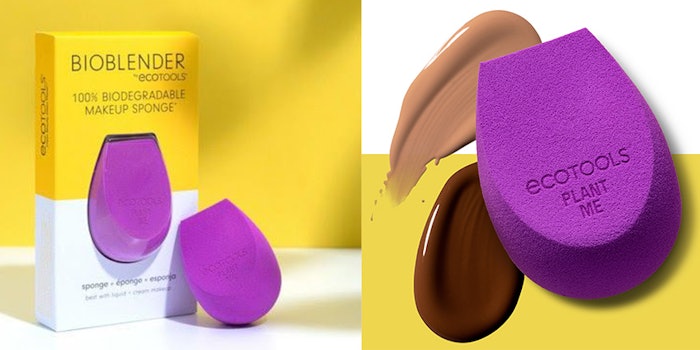 EcoTools, a beauty tool company, has launched BioBlender by EcoTools, a biodegradable makeup sponge. 
Related: Make It Black Campaign Launches
The beauty sponge comprises a sustainable biodegradable foam material and five "planet-friendly" ingredients that are USDA certified, 100% biobased, all-natural and vegan. 
The blender will degrade within 180 days, or six months, in a compost environment.
The BioBlender collection will also include biodegradable, post-consumer recycled packaging, which is FSC-certified and printed using soy ink.
John Nanos, Ph.D. in Organic Polymer Chemistry, collaborated with EcoTools for five years to develop this new blender.

Nanos said, "There has been an increasing need to focus on sustainability in the beauty industry and create products from natural and biodegradable sources. It was a rewarding experience to partner with the leader in eco beauty tools to refine my latest work and research for a revolutionary sustainable product. It took more than seven years to clear various technological hurdles and do it in such a way that was economically viable. When given a choice with no economic or performance disadvantage, who wouldn't choose a more sustainable solution?"
Niki Rybacek, product innovation manager for EcoTools, said, "Traditional makeup sponges are a leading cause in adding to unnecessary waste, and as a leader in sustainable beauty, we saw an opportunity in the market to address this. The consumer is looking for ways to reduce their environmental footprint and expects brands and retailers to do the same. We're excited to answer that with BioBlender and continue our mission to create high-quality, planet-friendly beauty and self-care products attainable by all."
Kristen Chase, senior vice present of global marketing at PPI Beauty, the parent company of EcoTools said, "I'm extremely proud of the team for taking our sustainability journey one step further, and creating a first-of-its-kind product that's just as effective in performance as it is eco-conscious. We will continue to push boundaries to reduce our footprint in our products, our packaging, via our partnerships, and our sustainability efforts as an eco-conscious beauty brand."
*Based on an independent study.