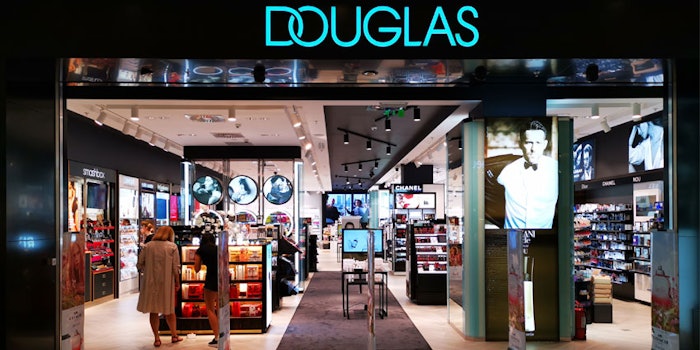 Douglas has announced that its Q1 (October-December 2020) fiscal 2020-2021 e-commerce sales rose by more than 74% to 433 million euros.
The company reported group sales of 1.2 billion euros during the period, a 7.1% decline compared with the previous year.
Douglas reported an adjusted EBITDA margin of 15.1%. The group operating result (EBITDA) was 177 million euros, equivalent to a drop of 19.2%. Net income for the quarter was 148 million euros.
According to Douglas, the last two weeks of December 2020 generated the most sales in brick-and-mortar retail. 
Sales in Germany recorded a decline of 3.3%, compared with the previous year quarter. The company generated 50.2% of its sales through digital channels in Germany. During Q1, growth of new online customers was 81% higher than in the prior-year quarter. The number of online orders rose by 68% to a total of 8 million.
In the 2020 calendar year Douglas recorded more than 19 million orders in its online business, equivalent to an increase of more than 50%.
Launched in the summer of 2020, Douglas LIVE allows customers to purchase products presented during live tutorials directly from the live stream in the Douglas online shop.  The sales figures of the products presented multiply during the screening and the format achieves a conversion rate of up to 40%. The average length of stay in the Douglas online shop increases.
Tina Müller, Douglas Group CEO, said, "Lockdowns and national coronavirus measures in the middle of the Christmas business had a huge impact on the weeks of the year that usually generate the strongest sales by far. Thanks to the experience we gained from the corona wave we almost made good the negative effects as Douglas has been gaining increasing momentum in e-commerce since the summer thanks to #FORWARDBEAUTY.DigitalFirst and has the strongest online presence in Europe across the sector. On the German home market, e-commerce now generates more than half of all sales. This is also a sign of how closely integrated our online and store sales are following a series of well thought-out initiatives."
Vanessa Stützle, chief digital officer, said: "Our platform strategy in e-commerce is working, as evidenced by our strong sales growth of around 60%  to 1 billion euros in the 2020 calendar year. We are resolutely continuing on this path with the further international roll-out of our initiatives and marketplace already being used in Germany, Austria and France. All these efforts are geared to our clear goal of realizing 2 billion euros in e-commerce as quickly as possible."