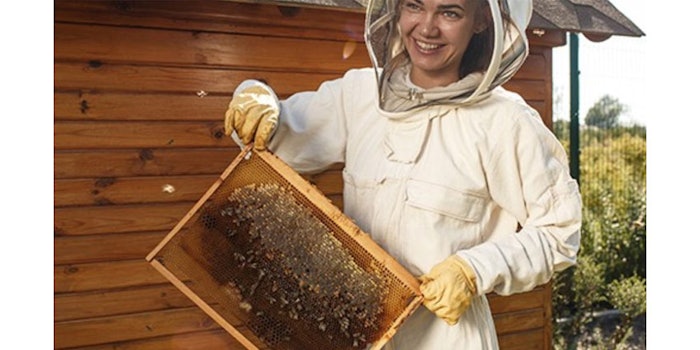 Unesco and Guerlain have launched a female beekeeping entrepreneurship program, "Women for Bees," with Angelina Jolie serving as a partner to promote women's empowerment and biodiversity conservation.
According to Unesco, starting June 21, 2021, 10 women from five biosphere reserves will attend a 30-day accelerate training course at Observatoire Français d'Apidologie's Domaine de la Sainte-Baume every year.
Over the course of five years, 50 participants will learn the theoretical and practical bases of beekeeping, including the running of a professional apiary. The five-year program is part of a partnership between Unesco and LVMH. 
The program reportedly aims to enable women's social emancipation through an expertise-driven sustainable professional activity. It also aims to contribute to the repopulation of bees, and to raising awareness of their importance as pollinators bearing in mind that animals play a major part in the pollination of 90% of the planet's wild flowers.
The biosphere reserves involved during the programme's first two years include Central Balkan (Bulgaria), Tonle Sap (Cambodia), Xishuangbanna (China), Kafa (Ethiopia), Iles et Mer d'Iroise (France), Sila (Italy), Katunskiy (Russia), Volcans (Rwanda), and Kozjansko & Obsotelje (Slovenia.
By 2025, 2,500 hives will have been built within 25 Unesco biosphere reserves and 125 million bees will have been restocked.
Jolie said, "When women gain skills and knowledge their instinct is to help raise others. I'm excited to meet the women taking part in this program from all over the world. I look forward to getting to know them and learning about their culture and environment and the role bees play in that. I hope the training will strengthen their independence, their livelihoods and their communities."

Guerlain CEO Véronique Courtois said: "I'm personally very proud of the 'Women for Bees' Guerlain x UNESCO program which manages to combine two core pillars of our Maison's strong commitment, In the Name of Beauty: Bees conservation on one side and women empowerment on the other side, a pledge for one of the nature's most precious wonder and a concrete positive social impact for women of the world. I believe each of us and each organization has a role to play to serve society and to fulfill a goal of a more beautiful and responsible world which is bigger than us."
Audrey Azoulay, UNESCO director-general, said: "Because the role of women in biodiversity management and decision-making processes is not fully recognized, supporting and promoting their contribution as agents of change is essential and a global priority for UNESCO. The Women for Bees program not only highlights our interdependency with other living species, it also encourages women to be designers of change, to create, educate and experiment with sustainable beekeeping in UNESCO designated Biosphere Reserves as a way of living on Earth in harmony with other species. Such is the spirit of our commitment to biodiversity, and the purpose of our global partnership with LVMH."