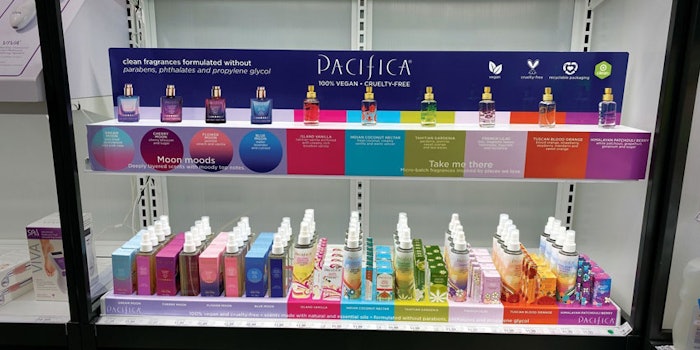 Expressive Visuals, a visual marketing solutions company, designed, manufactured and distributed fragrance displays developed for Pacifica Beauty exclusively at Target stores.
Previously: Rite Aid Focuses on Fragrance Transparency
The Pacifica Beauty fragrance displays are made using a proprietary gloss coating that prevents the spray from fragrance test bottles from damaging the printed visuals.
The displays showcase Pacifica Beauty's full range of clean, 100% vegan and cruelty-free fragrance products, which include perfume sprays, hair and body mists, roll-ons and solid perfumes.
"It's great to see that our team has been successful in developing yet another engaging product display that showcases such a wonderful assortment of fragrances at Target," said Allen Gasper, VP of Expressive Visuals. "In addition to being proud that Pacifica Beauty is happy with how well the displays turned out, I am also thrilled to see that our work is having such a positive consumer response."