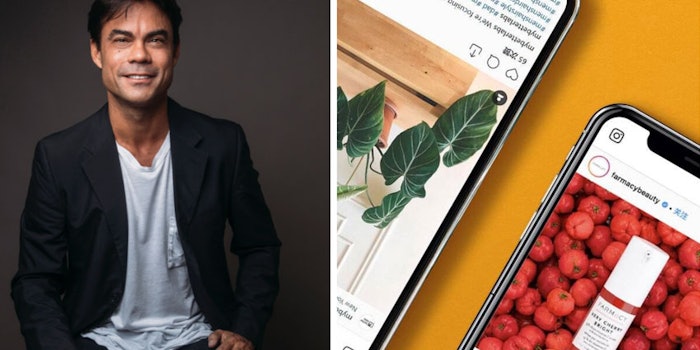 SuperOrdinary, a beauty and personal care distributor and brand incubator, is applying its learnings from the Chinese market to Amazon in China and the United States, launching an M&A strategy and expanding its executive team with the stated goal of becoming the "industry's most powerful conglomerate," rivaling the likes of LVMH.

In January, the company secured a minority investment from Alliance Consumer Growth (ACG), a consumer-focused growth equity firm. The amount of the investment was not disclosed.
Global Cosmetic Industry recently interviewed founder and CEO Julian Reis about the company's forthcoming expansion. More on that in a moment.
Cracking the Amazon Code
SuperOrdinary's Amazon microstore launch is designed to bring the DTC experience to Prime, the preferred shopping for many consumers amid the pandemic era.
Reis plans to leverage the company's experience in China to "crack the Amazon code," particularly the challenges of unauthorized third-party sellers, and ultimately empower brands in "the largest, yet most largely overlooked, opportunity for beauty growth for years to come."
The company positions itself as a full-service outfit, offering Amazon-bound brands forecasting, reporting, customer review management, brand store fronts, advertising, demand planning, custom content and product fulfillment from its new California headquarters. SuperOrdinary is predicting 40% growth for its brand collaborators in year one. 
Brand Partnerships & Investments
SuperOrdinary will be managing the Amazon presence of brands such as Joanna Vargas, Biossance, Dr. Brandt and Archipelago Botanicals, with more to come. 
SuperOrdinary is also announcing key investments in David Yi's Good Light and makep artist Violette's Violette_FR brand.
Management Team
To facilitate its ambitious goals SuperOrdinary has hired a suite of beauty executives, including:
Maureen Case, global president and chief brand officer (previously of Augustinus Bader, Violet Grey and Estee Lauder)
Allie Francis, CMO (previously of Supergoop!)
Steve Strong, chief operating officer USA (formerly of Quiverr, Neilson, GE)
Amanda Gordon Hinshaw, VP client services USA (formerly of Christian Dior, Wells Fargo, Quiverr)
Michael van den Berg, global general counsel (formerly of Le Tote and Walton, Lipton, Rozen & Katz)
Julian Reis Interview
Global Cosmetic Industry: What lessons did you learn working in the Chinese market that you will be applying to Amazon?
Reis: In China, D2C websites don't exist- all commerce is platform based. We see this streamlined way of shopping as something that will eventually permeate all markets, and we are already starting to see this with Amazon in the United States.
Distribution is being streamlined in response to the consumers growing desire for convenience. We know that the consumers are on these platforms, now it is our job and the brands' job to make sure they are present on these platforms to catch that demand.
We believe that to truly operate on these next-generation platforms, brands need a high touch partner with sophisticated platform experience and beauty expertise to really master the intricacies of these ecosystems.
This is what SuperOrdinary is building. We believe we can become the dominant beauty partner on Amazon, in China, and beyond.
Global Cosmetic Industry: What are you looking for in the brands you invest in? Which brands are you currently working with?
Reis: We look for brands that align with our values: fresh, soulful, innovative brands that can withstand the test of time and have global appeal. The beauty world is extremely saturated, so it's crucial that our portfolio brands satisfy a need in the market and have a true point of difference.
A recent investment that we're very excited about is Good Light, a personal care brand that believes in beauty beyond the binary. Developed by David Yi, and informed by the Very Good Light community, good light creates products that are for all people regardless of their gender identity.
We are inspired by Good Light's mission and are extremely proud to be working with a brand that is moving culture forward by promoting a more inclusive definition of beauty through product and purpose.
We are also excited to back Parisian makeup artist Violette's first line of cosmetics, Violette_FR. The brand's purpose is to help people celebrate their natural beauty and cuts across the classic French luxury and effortless street beauty.
We love how Violette is teaching consumers how to apply makeup in a way that's not "fixing" anything, but instead celebrating yourself. Violette has done an incredible job of leveraging her "how-to" video content and integrating that into the brand experience.
Global Cosmetic Industry: How did you arrive at such an aggressive growth rate for year one?
Reis: We like to say "the world moves fast but we move faster." We have a very high-performance culture at SuperOrdinary and look to outperform our peers by putting real investment behind our brands to achieve greater returns.
We are a true brand partner with skin in the game. We have been able to demonstrate this type of growth in China and look forward to bringing that traction to our brands on Amazon.
Global Cosmetic Industry: Finally, how would you characterize the state of the beauty market at this stage of the pandemic recovery?
Reis: I believe that the market will remain strong over the next 12 months as there will be further relaxation on pandemic restrictions and the consumer is looking to come back to offline as well.
People are ready to get out of the house and embrace the people and experiences around them. The skincare trend is not going anywhere, and color should bounce back as people are getting out more.
We see further channel disintermediation from offline to online and more strength out of platforms such as Amazon.