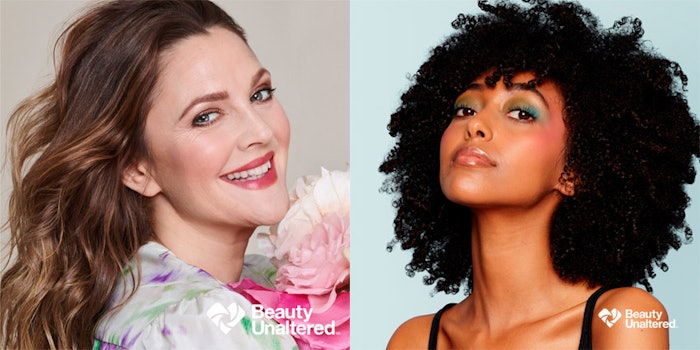 CVS Pharmacy has reached its goal of full transparency for beauty imagery produced by and for CVS Pharmacy, the culmination of its original CVS Beauty Mark commitment.
Related: CVS Names Nyma Tang as Beauty Inclusivity Consultant
Brands, including Covergirl and others from Coty, are now using unaltered, CVS Beauty Mark-compliant imagery across all stores. In 2020, CVS also inspired Olay's commitment to zero skin retouching in advertising materials as it debuted the Olay Skin Promise mark on its own unaltered imagery.
CVS Pharmacy is also announcing the next phase of Beauty Mark, centered on mental health.
CVS has partnered with media psychologist Pamela Rutledge, Ph.D., to conduct an online survey through The Harris Poll among women ages 18-35. The survey uncovered the mental ramifications of viewing altered imagery of others and of constantly evaluating one's own reflection during a period of heightened use of video calls and social media consumption.
To shed light on the confidence crisis uncovered by the survey, CVS Pharmacy will host in-depth conversations around mental health with Rutledge and key partners, including Victoria Garrick, social media influencer and mental health advocate.
Additionally, CVS Health has announced other measures to prioritize the mental well-being of customers, including Aetna's Here 4 U Sessions for Women and Aetna Resources for Living's Women's Mental Health Resource Kit.
It will also offer access to mental health services at MinuteClinic in select CVS HealthHub stores currently offered in select Florida, New Jersey, Pennsylvania and Texas locations.
Neela Montgomery, president of CVS Pharmacy and executive vice president, CVS Health, said, "CVS Pharmacy is focused on helping our customers in their journey to better health and beauty is no exception. As we reach 100% completion of Beauty Mark in our beauty aisles, we are proud to lead the beauty industry in making a bold statement that supports the mental health of our customers especially young women. We hope this authenticity will continue as the pandemic has created new and different issues in this space."
Drew Barrymore, founder of Flower Beauty, said, "It means so much to me to have Flower Beauty stand with CVS in its Beauty Mark mission. Flower Beauty is all about spreading joy and positivity, and the CVS Beauty Mark is a true extension of our core values. Creating authenticity and transparency in the beauty aisle is incredibly important as the mental health ramifications of repeatedly seeing unrealistic beauty standards can be extremely detrimental to one's own self-image. This hits particularly close to home for me as a mother of two young girls. This mission is taking us one step closer towards ensuring a more inclusive, more realistic representation in beauty, and it is something I am so immensely proud to be a part of."