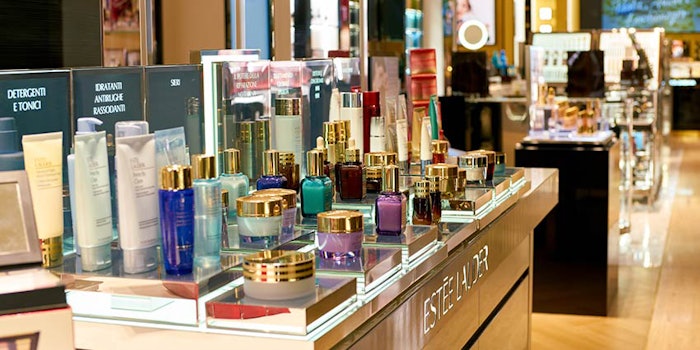 The Estée Lauder Companies has released its financials for the fourth quarter and fiscal year ending June 30, 2018.
For the fourth quarter, the company reported net sales of $3.30 billion, a 14% increase compared to the prior year. For the fiscal year, the company achieved net sales of $13.68 billion, a 16% increase compared to the previous year ($11.82 billion).
Fourth Quarter by Division
Skin care saw double-digit growth in every geographic region, and reported net sales of $1,379 million (a 29% change on a reported basis). Growth was particularly strong in Europe, the Middle East & Africa, travel retail and China. The largest brand contributors were Estée Lauder, La Mere and Clinique.
Makeup, which reported net sales of $1,358 million, saw a 4% increase over the previous year. Strong double-digit growth from Estée Lauder, Tom Ford, Too Faced, Becca and La Mer were partially offset by declines from MAC and Clinique.
Fragrance saw an 11% increase in sales, to $403 million. Higher net sales reflected growth across all geographic regions, and Jo Malone London, Tom Ford and Le Labo all saw double-digit gains. By Kilian also contributed to growth, while Estée Lauder fragrance sales declined in the United States.
In hair care, net sales increased—to $151 million, up 8% from the previous year—primarily due to the successful launch of new Aveda products. Increased operating income within the segment reflected higher net sales.
Fiscal Year
For the fiscal year, the company saw strong growth in travel retail, online and specialty-multi channels. Each major product category and geographic region reported growth.
Skin care saw increases from Estée Lauder, La Mer, Origins and Clinique, while makeup sales were driven by Estée Lauder, Tom Ford and MAC. Drivers of the fragrance division included Jo Malone London, Tom Ford, Le Mabo and By Kilian; in hair care, Aveda.
Fabrizio Freda, president and CEO, commented: "Fiscal 2018 was an outstanding year for our Company. We generated higher sales in every region and product category and gained global share. By investing in our hero franchises, fast-growing channels and digital and social media, we delivered double-digit sales and adjusted earnings per share growth. We achieved record net sales in fiscal 2018 and one of our best performances in the last decade.
"Sales climbed in virtually all our brands and we hit milestones along the way. Among the top four brands, our flagship Estée Lauder brand achieved record global sales and grew 22% in constant currency, demonstrating the amazing equity of the brand.  La Mer became the fourth brand in our portfolio to contribute well over $1 billion in net sales, and we increased sales at MAC and Clinique globally.
"Product innovation and creativity were strong across brands and Leading Beauty Forward provided us the flexibility to invest more in digital advertising behind our initiatives, which is accelerating our sales growth."