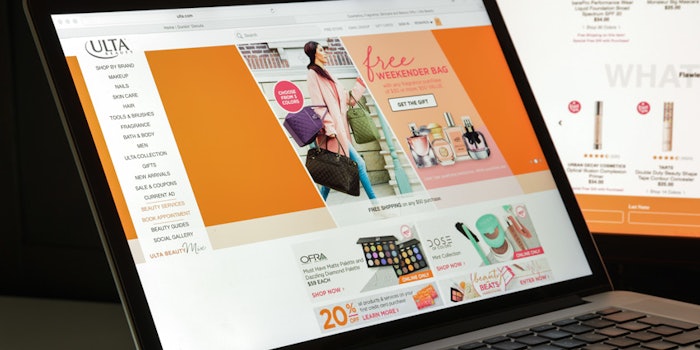 Ulta Beauty has announced its Q3 2018 comparable sales as well as updated its Q3 2018 and Fiscal 2018 guidance.
According to the beauty retailer, during Q3 2018, it achieved comparable sales growth, including e-commerce, of 7.8%. Retail comparable sales growth was 4.4%, including salon comparable sales growth of 3.3%. E-commerce sales grew by 42.2%. Ulta Beauty reported a comparable sales increase of 10.3% in the third quarter of fiscal 2017.
Additionally, Ulta Beauty is updating the previously announced fiscal 2018 guidance for comparable sales. For the full year, it expects to achieve comparable sales growth of approximately 7% to 8%, compared to previous guidance of 6% to 8%. 

Mary Dillon, CEO of Ulta Beauty, said, "We look forward to sharing our future vision for Ulta Beauty with the investment community. We see exciting possibilities ahead to continue to increase market share, profitability and long-term shareholder value through our renewed strategic plan. This plan reflects deep guest and category insights that have led to robust innovation around guest experience, new capabilities in personalization and digital experiences, and laser focus on operational efficiencies."
Other announcements included:
The launch of Ulta Beauty's brand purpose: "We bring possibilities to life through the power of beauty." Meant to create an emotional connect with guests, the purpose will be 

supported by a new advertising campaign and targeted programs to drive growth with key demographic segments.

Plans to 

increase personalization of the Ultamate Rewards loyalty program—member sales currently represent more than 95% of total sales.

Plans to build a digital innovation ecosystem, including online booking tools as well as artificial intelligence and augmented reality, thanks to its recent acquisitions of 

QM Scientific and GlamST.




The upcoming November 17, 2018, launch of Kylie Cosmetics in-store and online.

"Revamping" its Services Optimization program, i.e., rolling out omnichannel capabilities and investing in store labor and productivity tools.


Plans to open 80 stores in 2019; 75 stores in 2020; and 70 stores in 2021. The beauty retailer also aims to place a stronger focus on optimizing the store portfolio.

A new target for e-commerce fulfillment of two-day delivery by 2021, supported by the opening of a Fast Fulfillment Center in 2019 serving e-commerce-only orders, and implementing ship-from-store capability in select stores.