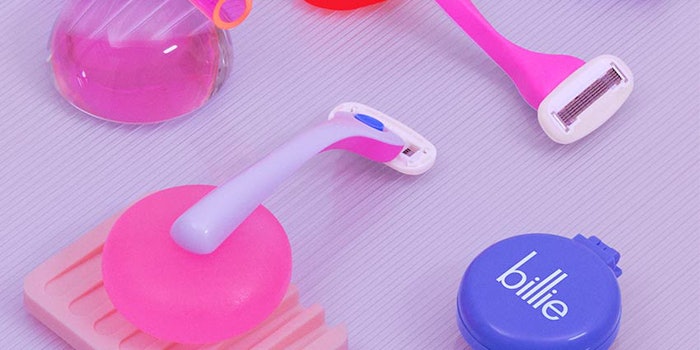 Billie, purveyor of shaving and body care products geared towards women, has announced a $25 million series A investment led by Goldman Sachs' Private Capital Investing Group.
The brand, which operates on a subscription model, has now raised a total of $35 million since its November 2017 launch. Other round participants include existing investors Silverton Partners, Female Founders Fund and Lakehouse Ventures.
The resources will go towards rapid growth, including innovation and expanding the product line. Current offerings include a starter kit featuring a handle, magnetic holder and two five-blade razor cartridges; shaving cream; the Sudsy body wash; and Dry-Bye body lotion.
Related: Feminine Care 2.0
"It's clear that Billie has addressed a real gap in the women's personal care market by bringing product innovation and fair pricing to consumers while delivering a superior experience," said Hillel Moerman, head of Goldman Sachs' Private Capital Investing Group. "We're pleased to support the company's vision of continuing to build this new women's body brand."
"Billie has done an amazing job creating a female-first brand that not only sells to women, but celebrates and supports her choices for her body," added Sutian Dong, partner at the Female Founders Fund. "We're excited to continue collaborating with the Billie team to expand the product offering and ban the pink tax in personal care and beyond."