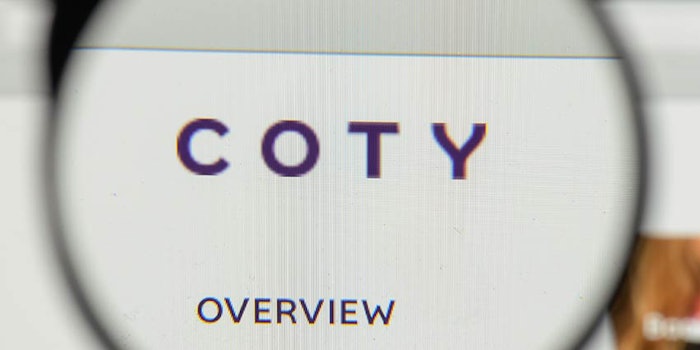 Coty Inc. has had a busy few weeks, with a possible acquisition of Kylie Cosmetics and the hiring of a new chief human resources officer. Now, the company has unveiled its turnaround plan designed to revive the lagging Consumer Beauty sector, and maximizing the growth of the Luxury Beauty and Professional Beauty segments. The objective, according to the company is to "steadily improve gross margin and operating margin, more in line with Coty's peer group, as well as to drive free cash flow and reduce leverage."
The new organization design is expected to be in effect by January 1, 2020, with the full structure, including consolidation and relocation of management in Amsterdam, due by July 1, 2020.
The plan is broken down into three pillars:
1. Rediscover growth
Focusing brand-building efforts behind priority brand-country combinations and investing behind them at scale
Optimizing assortment and simplifying product ranges and brands architecture;
Improved portfolio structure, optimized promotional tactics and support of higher-margin pillars
Building an innovation pipeline to support expansion of category coverage, up-trading and margin accretion
2. Regain operational leadership
Improving cost of goods sold through the value-engineering of product ranges and optimizing Coty's supply chain utilizing its existing manufacturing footprint
Rationalizing SKUs and sub-ranges to reduce product range complexity and lower inventory
Reducing fixed costs by reducing organizational layers and positioning all key markets closer to the executive committee
Splitting commercial and marketing responsibilities to enable greater focus on portfolio strategies; as part of this move, Coty will transition the current organizational structure into regional commercial teams in Europe, Middle East & Africa, Americas and Asia Pacific, and brand marketing units for Luxury and Consumer Beauty. Professional Beauty will remain as a separate distinct business unit "due to its unique salon channel focus"
3. Build a culture of pride and performance
Centralizing management headquarters in Amsterdam, which the company considers is a "cost-efficient and tax stable location"
New Appointments
The appointments related to this announcement are as follow:
Edgar Huber, president of Americas and Asia Pacific

Gianni

Pieraccioni, p

resident of

EMEA

Fiona Hughes, president of Consumer Beauty Brands

Simona

Cattaneo, p

resident of Luxury Brands
The executive committee will remain in its current roles.
2019 Outlook
Coty anticipates an impairment of its intangible assets of approximately $3 billion for 2019. Coty has agreed with its banks an amendment to its credit agreement to align with the turnaround plan. According to the company, "Coty has ample liquidity and available credit lines for a total of more than $2 billion."
2020 Forecast
Coty expects the 2020 fiscal year to feature a decline in net revenues, with constant currency adjusted operating income up 5-10%.
2023 Forecast
For 2023, Coty is assuming net revenues will remain similar in total to that of fiscal year 2019, with operating margin of 14-16%, free cash flow of about $1 billion and net debt to EBITDA of less than 4x.
Coty expects to incur one-time cash costs of approximately $600 million spread over fiscal years 2020 through to 2023, in addition to approximately $160 million connected to previous programs.
Pierre Laubies, Coty's CEO, said, "Over the past few months, we have focused on both stabilizing our operations and identifying a path towards turning around the company. Our Turnaround Plan will enable us to build a better business in the coming four years, while we gradually prepare for growth. We are fortunate to have a strong brand portfolio and talented and engaged people around the world, and we will provide the right framework to enable their success. We will focus our strategic effort and investments on fewer brands globally while simplifying our operations and organization. At the same time, we will make our cultural transformation agenda a key building block of our plan."
Laubes added, "Our financial priorities are clear as well – to improve profitability and deleverage – and we are intent on setting realistic targets and delivering them. Today starts our new agenda - we will progress it as a team, with the right balance of discipline and creativity." Turnaround Plan Details
Pierre-André Terisse, CFO, said, "We have built a realistic four-year plan, focused on restoring our profitability and deleveraging our balance sheet. We will recover competitiveness by strengthening our brands, expanding our gross margins and methodically reducing our costs. Together this will give us the flexibility to step up our commercial investments while simultaneously driving significant operating margin expansion and enable Coty to achieve a leverage ratio of net debt to EBITDA below 4x by Fiscal 2023. Our new company-wide incentive system will be aligned to these financial objectives and in Fiscal 2020 will be focused on three key performance indicators: gross margin; operating income; and free cash-flow. We are confident in this plan and the results of our actions to date support our belief that we can deliver our objectives."