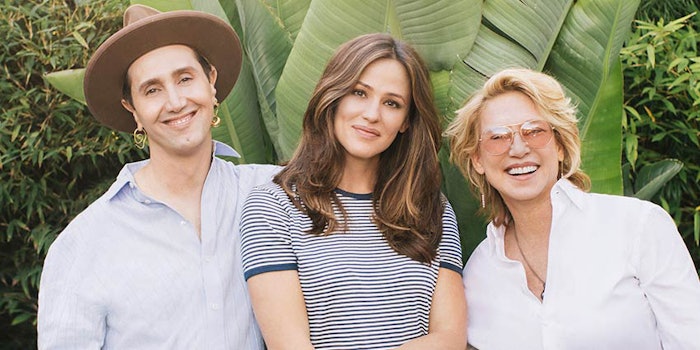 Virtue Labs has announced actress and entrepreneur Jennifer Garner has joined its team and will be bringing awareness to the biotech hair care brand Virtue through her social media platform.
By using her voice and through creative initiatives, Garner will help amplify Virtue's brand recognition and demonstrate the hair care line's benefits, including the restorative qualities of the company's proven Alpha Keratin 60ku technology.
Garner will work closely with Virtue founder and CEO Melisse Shaban and creative director Adir Abergel to develop creative content and overall brand strategy.
Virtue's products are available at Sephora and in select salons/retailers in the United States, United Kingdom, Canada, Europe and Australia. Some of the award winning products are Virtue's Recovery Shampoo and Conditioner, Restorative Treatment Mask, Split End Serum and Virtue ColorKick.
"I was introduced to Virtue hair care products a couple of years ago by my long-time friend and hairstylist, Adir Abergel, who is the creative director of the brand," Garner said. "[Abergel] and I have grown up together and have collaborated extensively for almost twenty years. I trust him with everything, but especially when it comes to hair, so naturally, I was an early consumer and fan of Virtue's products."
She added, "First of all—my hair loves this stuff, the results have been amazing! But when the innovative science behind the products was explained to me, I really got excited—I mean, who knew science could give you your best hair?!"
Garner continued, "Virtue's commitment to innovation, premium quality, and social responsibility reflect [Abergel's] values, as well as my own, and have made an official partnership seamless and complementary. I'm looking forward to working alongside [Abergel] and the entire Virtue Labs team—we've got to share the news about these incredible products and the inventive science and technology that sets them apart. Hair is important, people!"
"At Virtue we are focused on authenticity, from the unique technology that forms the basis of our hair care products to the clinically proven results they can help you achieve," said Shaban. "In addition to her acclaim as an actress, [Garner] is a businesswoman and working mom who embodies many of the values we aspire to as a brand. Because she really uses the products, [Garner] will add authenticity by sharing her own experience as a genuine Virtue customer, and now a partner of the brand."