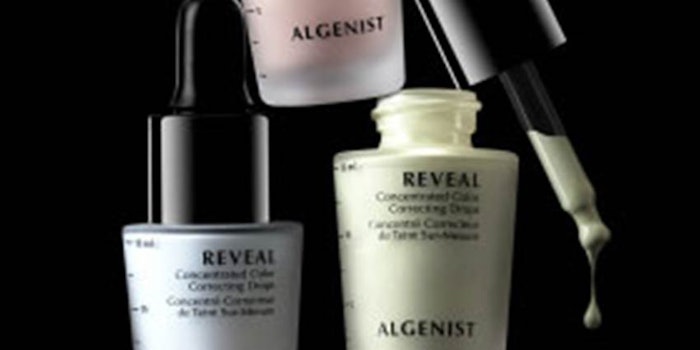 UPDATE: Tengram Capital Partners has completed the acquisition of a majority interest in the Algenist skincare brand  from TerraVia for $20.2 million in cash and about 20% of the fully diluted equity of Algenist. Tengram will also "contribute significant capital" to Algenist, per the deal.
PREVIOUSLY: Tengram Capital Partners, which has invested in Laura Geller Beauty and DevaCurl, has been at the forefront of beauty M&A. Now, Tengram has acquired a majority interest in the Algenist skin care brand from TerraVia, a specialty ingredients firm.
Tengram and TerraVia will also create new beauty offerings based on the ingredient company's algae-based technology platform.
TerraVia will retain an ownership interest in Algenist of approximately 20% and will continue to supply active ingredients formulated in the Algenist product line. Tengram will contribute "significant capital" to the business to boost the algae ingredients' commercialization.
At close, expected in the third quarter of 2016, TerraVia will receive approximately $20 million.
Algenist was launched in 2011 and comprises antiaging and color correcting beauty products based on TerraVia's ingredients, including Alguronic Acid and microalgae oil.
"Algenist is a unique brand in the prestige skin care market, with a distinct positioning and unique and proprietary ingredients," said Richard Gersten, a partner at Tengram. "The recent bridge into color cosmetics leveraging the patented ingredient technology creates tremendous potential for the future growth of the brand. We are looking forward to working with the existing team and leveraging our beauty industry expertise to drive continued growth across all global markets. We are also excited about the broader partnership with TerraVia and believe that there are great opportunities to create value."
"Having started the brand with Jonathan and the TerraVia team back in 2011, I am thrilled to lead Algenist as its CEO at this exciting time in the brand's development," said Algenist's CEO, Frederic Stoeckel. "The partnership with Tengram and TerraVia will help continue to build upon the brand's current momentum."
 "We are enthusiastic about our partnership with Tengram as we work together to help Algenist achieve its extraordinary growth potential," said Jonathan Wolfson, cofounder, chairman and CEO of TerraVia. "This partnership allows us to focus our captive commercial operations on foods and nutrition, while maintaining participation in Algenist's future success and gaining access to Tengram's expertise and leadership to participate in beauty and personal care opportunities commercializing our proprietary algae platform."