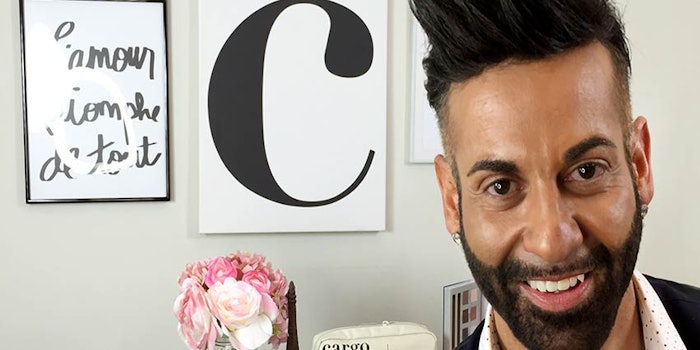 Cargo Cosmetics has signed Rogelio Reyna as global tining, education and artistry director, who has 15 years of experience as director of artistry and education for Latin America and the U.S. hispanic market with Bobbi Brown Cosmetics.
On October 6th, Reyna will be launch Cargo Cosmetics on HSN and will be responsible for TV shopping in other markets, leading artistry and training for all retailer-facing events, field teams and beauty adviser trainings.
Reyna will be involved in product development and all creative brand initiatives and media interviews. He will also develop brand content for social media: @CargoCosmetics on Instagram and Twitter, and the Cargo Cosmetics Facebook page.
Reyna's Instagram posts can be found at @Rockstar_Rogelio.
"Cargo has been rapidly expanding and we felt the next step to support this growth would be securing a pro artist with sales expertise" said Brian Robinson, president of Cargo Cosmetics. "We have been waiting for the perfect candidate and I believe we've found that in Rogelio. He comes with an impressive celebrity clientele and strong credibility in social media."
"I am honored to have been chosen by Cargo to lead their team of artists and further sales education," said Reyna. "Cargo is well-known in the industry for their formulas – particularly in the HD and Swimmables categories. I see opportunity for growth in those lines and have new training and creative strategies that I'm eager to bring to life."