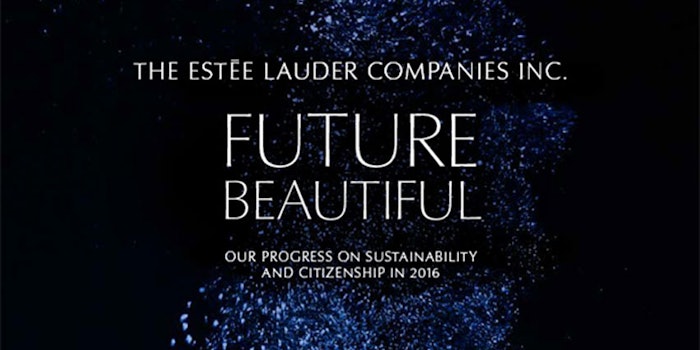 While more and more consumers are reaching for natural and organic products, brands are also trying to get in on the sustainable movement. Estée Lauder Companies is one such company. It recently printed its progress in Future Beautiful: Our Progress on Sustainability and Citizenship in 2016.
This report outlines five areas of sustainability and citizenship, which includes products, and packaging, employee well being, sustainable sourcing, efficient operations and citizenship.
Fabrizio Freda, president and CEO of Estee Lauder was quoted saying, "Our long-term success rests on our ability to embed sustainable practices along our value chain. We believe that citizenship and sustainability are essential to our success as a business and our responsibilities as a global company."
Over the past year…
The Estée Lauder Companies Charitable Foundation was founded to improve education for girls around the world
Good Works is the newest program, which allows the company to match employee volunteer and monetary donations
It also set a goal of net-zero greenhouse gas emissions by 2020 to help cut down on the effects of climate change.
Executive chairman, William P. Lauder said, "Sustainability and citizenship is about how we do business. How we create long-term value and continually deliver a sustainable business model."
Editor's note: Learn more about sustainable innovation at the new 2017 in-cosmetics "Sustainability Corner," sponsored by Cosmetics & Toiletries and Global Cosmetic Industry.