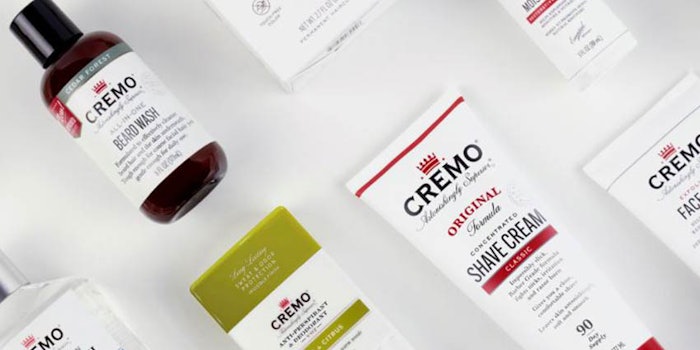 Edgewell Personal Care, which terminated its Harry's acquisition earlier this year, is acquiring U.S. men's grooming brand Cremo in an all-cash transaction of $235 million. The brand will join Edgewell's brands, which include Jack Black and Bulldog, the latter of which is a top-10 men's grooming brand. Cremo's range comprises beard, hair, shave prep and skin care products.
The transaction is expected to close by the end of the fiscal 2021 first quarter. Perella Weinberg Partners LP acted as financial advisor and Wachtell Lipton Rosen & Katz acted as legal counsel to Edgewell on the transaction. Goldman Sachs & Co. LLC acted as financial advisor and Latham & Watkins acted as legal counsel to Cremo.
"We are excited to announce this agreement to acquire Cremo," says Rod Little, Edgewell's president and CEO. "The men's grooming category remains a strategic focus for Edgewell and this acquisition will help us accelerate growth and strengthen our position in the fastest growing categories in men's grooming. We are acquiring a profitable, growing business with an established presence that is well diversified across grooming categories, yet has significant opportunities for expansion. We are extremely impressed with the Cremo brand and its positioning and expect it to continue to resonate over the long term with consumers. The organization's consumer-centric brand building capabilities will also be an important addition for Edgewell as we leverage the expertise of the Cremo team."
"This is a significant milestone for Cremo, a brand that we built to embody quality with professional grade characteristics," said Matthew Biggins, Cremo's president and CEO. "Combining with Edgewell provides us the ability to bolster our strong store channel presence in the United States while positioning us to capitalize on attractive channel and geographic expansion opportunities. We are excited to join the Edgewell global brand portfolio and look forward to leveraging our compelling brand and social media presence with the benefit of Edgewell's platform and demonstrated capabilities in the grooming category."