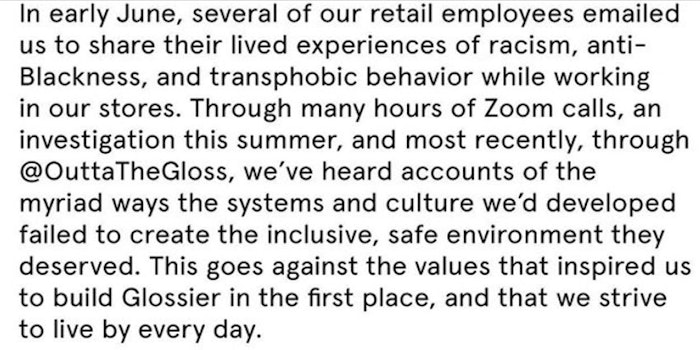 Founder and CEO of Glossier, Emily Weiss, released an apology on her Instagram after an investigation resulted when several retail employees came forward in June with their experiences of racism and transphobic behavior.
Further reading: No Going Back
Weiss' Instagram post read in part, "Over the past three months, through conversations with members of Glossier's retail team and, more recently, the stories shared via @OuttaTheGloss, it's become clear that we've failed to ensure that all voices are heard, and protected, within our internal community."
According to a separate blog post on the Glossier website, Weiss said that a group of former Glossier retail employees published a post sharing their experiences in a NYC store. She acknowledged that the stories echoed conversations had a few months ago. 
The concerns for Glossier's Black, POC and LGBTQIA+ teammates were reportedly immediately investigated. Based on reported conversations with retail team members, Glossier created a plan to build a "better work environment."
The blog read in part, "We are grateful to everyone who has come forward for giving us the opportunity to listen, learn, and improve. While our timeline for re-entering retail remains uncertain as a result of the pandemic, we are committed to laying the foundation for a better work environment in our stores. As a beauty company, we know we have a heightened responsibility—changing how the world sees beauty starts with change and accountability within our own organization."