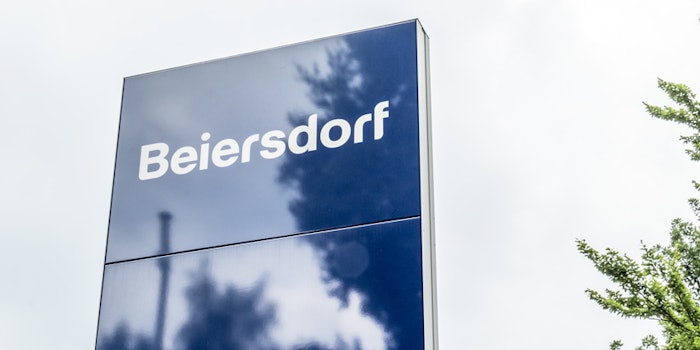 Beiersdorf has announced several steps towards reducing plastic waste by 2025. Beiersdorf will reduce the use of fossil-based virgin plastic by 50% within the next five years, increase the share of recycled material for plastic packaging to 30% and make 100% of all product packaging either reusable, refillable or recyclable.
Previously: Beiersdorf Invests $5 million in LYCL
According to the company, it has redesigned the Nivea Naturally Good Body Lotion bottle and cap using 50% less plastic than the standard Nivea body lotion packaging. The packaging is said to be like that of a toothpaste tube, which is thin and can be easily squeezed and rolled up tightly. 
In addition, Beiersdorf will have converted 90% of its PET bottles in Europe to include recycled material by the end of 2020. It will reportedly save more than 1,200 ton of fossil-based virgin plastic each year. 
Nivea Shower Fresh Blends has already come to market in PET-bottles made from at least 97% recycled material. Beiersdorf will have switched the vast majority of bottles of its Nivea shower and shampoo range on market to recycled material before the end of this year.
Beiersdorf was one among 29 other companies to sign the business call for a UN treaty on plastic pollution initiated by the WWF, the Ellen MacArthur Foundation and the Boston Consulting Group (BCG.). The call is to push governments to negotiate and agree on a UN treaty on plastic pollution.
Beiesdorf also launched the first in-store shower gel refill stations cooperation with one major German retailer, dm, in selected stores. The customized refill machine won two awards: design MUSE award and Sustainability Readers Award 2020 Packaging Europe.
The company has also partnered with TerraCycle in the Zero Waste Initiative Loop where used-up product packaging is collected at consumers' homes, cleaned and refilled in order to allow multiple usage-loops for consumers.
The HolyGrail 2.0 initiative by the European Brand Association AIM has allowed Beiersdorf  to collaborate with more than 80 other companies to trial run the viability of digital watermarking technologies for a more accurate waste sorting and leverage it to a larger scale. 
Beiersdorf has developed a first industry-standard for cosmetic grade recycled plastic that will be available to the public within this year.
Stefan De Loecker, chief executive officer of Beiersdorf AG, said: "We care beyond skin at Beiersdorf and so we have chosen this motto also for our Sustainability Agenda: Care Beyond Skin. It is aligned with the Sustainable Development Goals of the UN (SDGs) and strives above all to limit global warming to 1.5 degrees. To reduce our carbon footprint significantly, we must improve our products and fuel a circular approach. In this context, our action on product packaging, especially on plastic, plays a key role. We are not only setting ambitious targets; we are intensively working on them to deliver with concrete actions."
Jean-Francois Pascal, vice president corporate sustainability at Beiersdorf, said: "As we strongly believe the global plastic problem cannot be solved in silos, but a broader collaboration and joined forces are needed, we are taking action beyond our own business. We are teaming up with our suppliers, trade partners, NGOs, scientific institutions and also with other players in our industry. We want to really drive the topic forward and contribute to the change we need within a broader context."