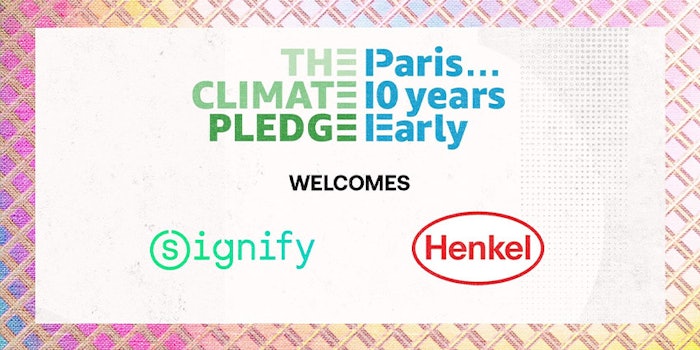 Henkel has announced it has joined Amazon's Climate Pledge, stating its commitment to climate protection. 
Related: Cradle to Cradle on Amazon's Climate Pledge Friendly Program
The Climate Pledge was launched in 2019 and aims to unite global businesses in a commitment to counter climate change.
As a signatory to The Climate Pledge, Henkel agrees to:
Measure and report greenhouse gas emissions on a regular basis
Implement decarbonization strategies in line with the Paris Agreement through business changes and innovations, such as:

efficiency improvements
renewable energy
materials reductions
carbon emission elimination strategies

Neutralize any remaining emissions with permanent and socially beneficial offsets to achieve net-zero annual carbon emissions by 2040
Special report: Climate-positive Beauty
The pledge is in line with the Henkel's long-term target to become a climate-positive company by 2040. Recently, Henkel's emission reduction targets were approved by the Science Based Targets initiative as consistent with levels required to meet the goals of the Paris Agreement.
Henkel CEO, Carsten Knobel said, "Climate change is a global challenge, which requires our collective action. At Henkel, we want to make a positive contribution to protecting the climate. Based on our achievements to date and in line with our ambitions for the coming years, we are very pleased to join and support the Climate Pledge. Together with Amazon, Global Optimism and the other signatories, we are fully committed to drive tangible progress and jointly take action to limit global warming."
Jeff Bezos, Amazon founder and CEO, said, "By signing The Climate Pledge, companies around the world are taking collective action to protect our planet from the catastrophic impacts of climate change. We welcome Henkel as they join us in our commitment to be net-zero carbon by 2040, a decade ahead of the Paris Agreement. The companies are demonstrating important leadership as they help us accelerate the transition to a low-carbon economy and protect the planet for future generations."