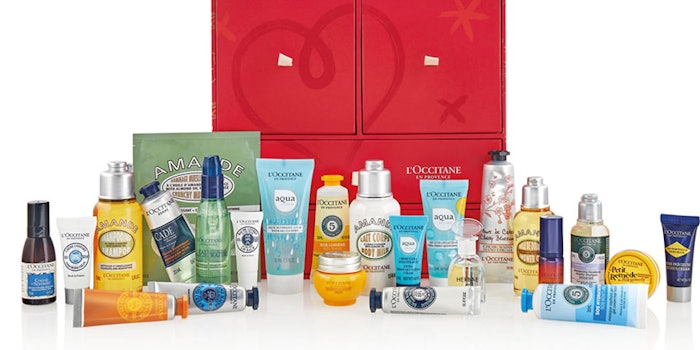 L'Occitane en Provence's commitment to reducing waste by 2025 is underway. Its target of using 100% recycled plastic in its bottles and establishing a recycling service in its boutiques are at 32% and 47%, respectively.
Previously: By Humankind Launches Zero-Waste Subscription Service
L'Occitane en Provence is dedicated to reducing the quantity of material used and increasing its packaging's lifespan while making sure packages are recycled and recyclable as much as possible. 
The company is taking steps in its efforts to reduce waste by eliminating the use of cellophanes by 2022 and the spatulas provided with the Divine packs as of 2020. 
In addition, the plastic interiors of the advent calendars for Christmas 2020 were replaced with cardboard, saving 40 tons of plastic compared to Christmas 2019. 
In an effort to favor refills, trials with shampoo and shower gel fountains in three shops in Spain and Germany are underway. The service is expected to launch in the United States by 2022.
L'Occitane en Provence has 25 eco-refills as of September 2020, a goal that was intended to be reach by 2022. The refills are available for liquid soaps, shampoos, conditioners, shower gels, oils, hand washes and the Lavender Foaming Bath.
As of March 2020, the brand's bottles consist of 32% recycled plastic, and 92% of the materials are recyclable. By 2021/2022, L'Occitane en Provence will be integrating Loop Industries' PET plastic.
L'Occitane en Provence has joined SPICE, the Sustainable Packaging Initiative for CosmEtics, which brings together organizations in the cosmetics industry to work toward shaping the future of sustainable packaging.