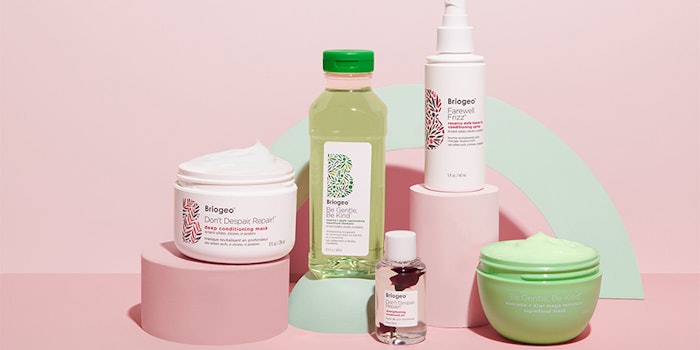 Briogeo has announced its nationwide, omni-channel launch at Ulta Beauty, beginning January 1, 2021.
Related: Tula Skincare and Founder Join Ulta's Conscious Beauty
Guests can find Briogeo's products online and in all Ulta Beauty stores on January 4, 2021.
Briogeo will be part of Conscious Beauty at Ulta Beauty, the retailer's initiative to help guests make more informed choices about products that align to their values. It joins the program as the first prestige hair brand certified under four pillars: clean ingredients, cruelty free, vegan and sustainable packaging.
Briogeo will also be used at the Salon at Ulta Beauty as part of its professional hair service appointments, beginning February, 2021.
Nancy Twine, founder and CEO, Briogeo, said, "From day one, I knew I wanted Briogeo to be about more than just me, I wanted the brand to be about everyone. I created it to be clean and natural, offering effective solutions for every hair type, texture, need, ethnicity, background, and person."
Monica Arnaudo, chief merchandising officer, Ulta Beauty said, "We are thrilled to welcome Briogeo to the Conscious Beauty at Ulta Beauty family. Now more than ever, beauty enthusiasts want simplified, clean, effective solutions personalized for their specific needs, Briogeo does that and more. We're excited to partner with Nancy and her passionate team to provide greater access to award-winning products for all."