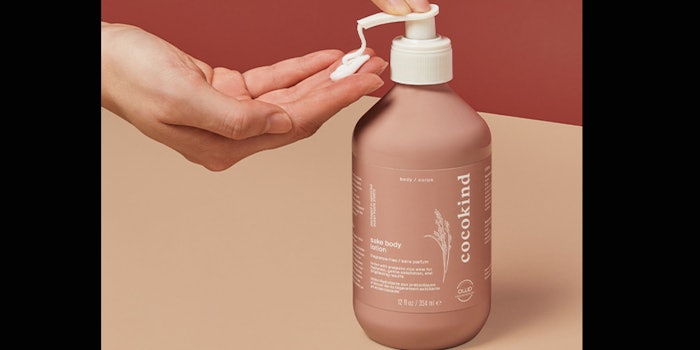 Cocokind has announced the debut of its new packaging, Ocean Waste Plastic (OWP), as an effort to reduce virgin plastic and bioplastics with its partner, PackTech. 
Related: Unilever x Alibaba Launch Closed-loop Plastic Recycling System
Cocokind's new Sake Body Lotion will be the brand's first product to be housed in OWP, which is plastic collected from beaches, rivers, lakes, and other natural bodies of water in areas of the world such as Jakarta, Indonesia. That plastic is then transformed into pellets that can be repurposed. 
The use of OWP for its Sake Lotion is projected to offset 1,654 lb/0.8 tons of plastic from the ocean in 2021. Production of these recycled resins uses 85% less energy and emits 75% fewer greenhouse gases than producing virgin resin and overall reduces CO2 emissions by more than 50%.
"When we decide to use a certain material, we believe that the pros out weigh the cons, especially when compared to their virgin plastic counterparts," said Cocokind founder Priscilla Tsai. "Understanding the full extent of our packaging decisions is extremely important to our customers, and we hold ourselves accountable in providing this level of education and transparency in order to show true leadership in the beauty industry."